IN THEIR GREEN & BLACK JERSEYS, WE REMEMBER THEM STILL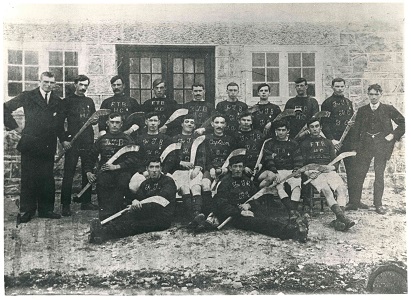 by Tom Kenny
Father Tom Burke's Hurling Club was founded in 1898. It was called after the very famous Galway-born Dominican priest and preacher whose statue can be seen today on Father Griffin Road. Its membership was composed in the main of fishermen from the Claddagh. In their very early days, teams had 21 players.
The club lapsed for a while prior to 1912 when it was revived by John Joe McNamara and Michael John Noone with a little help from Father (later to become Canon) Davis and Fr. Nicholas Fegan. Father Tom's heralded their revival by winning the County Junior hurling Championship in 1912 and again in 1913. They also won the Galway City Challenge Cup in 1912.
Our first photograph shows that team. They are back row; left to right: Pa Delargy, Michael O'Donnell, James Hurney, Tim McHugh, Jack Gillespie, Michael John Noone, Martin Conneely, Thomas Wallace, Josie Conneely, Mick Conneely. Centre row: Mick Cloherty, Augie Kelly, Michael Hynes, John Joe McNamara (captain), Thomas Griffin, Michael O'Dea and John Cloherty. In front are Pat McNamara and Dick Curran.
In another sense, 1913 was a memorably year for the club, they were able to move from the thatched cottage they used as a clubhouse to the newly built Claddagh Hall. The 1914-18 war ruled out any possible chance of inter-club hurling but the club committee sponsored their own league to keep the game alive. Fr. Tom's won the Galway Junior Championship again in 1921 and 1923 and they also won the City Challenge Cup in 1923. That year they also won the famous Loughrea Feis 7-a-side tournament from 27 teams. The winning seven were Tom Griffin, Andy Curran, M.J. Noone, Michael Joe Clancy, John O'Donnell, Eddie Moore and Jack Gillespie.
They reached the final of the Galway City Cup in 1925, but it was never played. It was not played either in 1926, and the following year, the then postmaster in Galway, a Mr, Lynch put up a set of gold medals which Fr. Tom's also won.
They repeated that achievement in 1929 when they again won the City Challenge Cup. Their team that day is shown in our second photograph. They are, back row; left to right: M. Mulally, Peter John (Corley) Curran, Paddy O'Donnell, Dominick Curran, James Carrick, James Moore, Paddy Curran and J. Sharkey. Third row; John Joe McNamara, John Costelloe, Johnny Griffin, Thomas O'Dea, M. (Kruger) Griffin, John Moore, Martin Gannon, John O'Brien, Tom Higgins, Michael Joe Noone. Seated are John Geary, Tom Griffin, 'Hum' Curran (Captain), Eddie Moore, Pete Griffin. In front are 'Adley' Hynes and Jeff Murphy.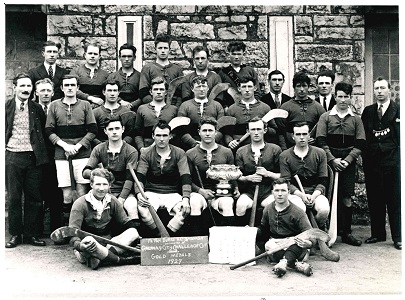 Fr. Tom's withdrew from all competition that year because of some kind of dispute with the Galway West Board. They were revived again in 1952 but the club only lasted a few years. However they are guaranteed some kind of immortality by their inclusion in that great Claddagh Anthem …
Oh we had some fine hurlers but they are nearly all gone.
May their names lie forever like the great Father Tom,
In their green and black jerseys, we remember them still
Here's a toast to your Claddagh at the foot of Fairhill.
Finally may I wish a Happy and a Healthy New Year, especially to those people who supplied me with photographs and information, those who suggested ideas and those who enjoyed slagging. Thank you one and all. I would not have a column without you.