LIAM MELLOWS, ENIGMATIC REPUBLICAN & NOTORIOUS IRRECONCILABLE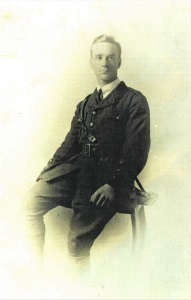 by Tom Kenny
William Mellows was born in Ashton-under-Lyne, Manchester, where his father, Staff Sergeant William Mellows was then stationed. His father had ambitions for the son to become the fourth generation of the family to serve in the armed forces, but after they moved back to Ireland, Liam became steadily disillusioned with the British Government. He lived in Dublin for a time and spent a lot of time living in his grandparents' house in Co. Wexford, where his mother came from.
He was described as a 'pale, shy, studious little boy' and he started work as a clerk in D'Olier Street in Dublin at the age of thirteen. His nationalism slowly began to surface, he started calling himself Liam and was regularly reading Bulmer Hobson's paper Irish Freedom. His father had expected him to join the British Army, and must have been very upset when Liam told him if he was going to fight, it would be for Ireland and on Irish soil. Liam's brother Barney was of a similar opinion, but eventually their father managed to get over his disappointment and in fact had a very close relationship with his two sons thereafter.
Tom Clarke suggested he join Na Fianna Éireann, the republican scouting group, and he rose rapidly in that organisation soon joining the headquarters staff. He was sworn into the IRB in 1912. The following year he gave up his job for a small salary to work as an organiser for Na Fianna. He travelled the country establishing new branches and strengthening old ones. Wherever he went, he made a deep impression as in when he first came to Tuam: "In 1910 or thereabouts, a young, sturdy, fair-haired boy, with genial and quiet determination, graced to roads of Ireland on a push bike. And so, this kilted lad, with his saffron-flowing shawl over his shoulders, Tara brooch, green kilts, long stockings and shoes, arrived and brought with him a ray of sunshine into our somewhat drab and dull town of that period. His name was Liam Mellows – a man who helped in no small way to change the course of history."
Galway was seen as ripe for rebellion and had a reputation for being violent going back to the Land War, and so Mellows, though only 23, was sent here to organise the Volunteers. He was a strict disciplinarian and a hard taskmaster, but once off duty, he was full of good cheer and bad jokes, and became very popular amongst the rank and file. His propensity for poor puns was recalled by many as was his contagious personality, his friend Alf Monaghan described "His highly developed sense of the ridiculous".
He divided the county into four battalions, Galway, Athenry, Loughrea and Gort which reflected the bias towards the east of the county at the time. His activities brought him to the notice of the authorities and he was arrested a number of times. He also had to deal with Tom Kenny, the Craughwell blacksmith who headed the powerful agrarian secret society who once said of him "Fair-headed Bill, you are good for nothing only drinking tea at the Walshes of Killeeneen". Mellows' involvement in the Rising is well documented. Afterwards he went on the run and eventually got to America where his organisational skills were such that he became known as 'the leader of the Irish exiles'.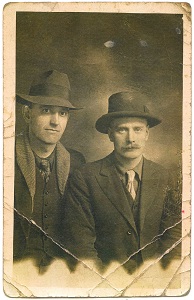 Our first photograph shows him in disguise on the right along with Dr. Patrick McCartan. They were arrested in Nova Scotia in 1917 while trying to travel to Germany to buy munitions, Mellows using the false name Patrick Donnelly. When he was release some 10 days later, Mellows freely admitted that the charge against him was correct. Our second image is of him in Volunteer's uniform, probably c.1915.
He came back to Ireland in October 1920 after successfully obtaining false papers. He had been elected a TD and he was appointed as Director of Purchases of the IRA, an administrative position of high importance. He greatly opposed the signing of the Treaty and devoted much of the rest of his life to resisting it. In December 1921 and January 1922, he toured Galway spreading his anti-Treaty message to regional Sinn Féin branches, frequently sparking conflict with local leaders. He was part of the garrison of the Four Courts and one of the drafters of the statement issued to the Provisional Government demanding the republic be upheld, the Civic Guard be disbanded and all elections be postponed.
When the Four Courts garrison surrendered, Mellows was imprisoned with the other leaders in Mountjoy prison. On the 7th of December, 1922, the IRA killed Seán Hales, a pro-Treaty TD and wounded his fellow TD, Pádraic Ó Máille. In reprisal, the Free State cabinet authorised the execution without trial of the leading members of the Four Courts garrison then in custody and so, on this day 100 years ago, Rory O'Connor, Joseph McKelvey, Richard Barrett and Liam Mellows were shot by firing squad.
One of the most remarkable aspects of Mellows is the extraordinary longevity of his political afterlife as he remains one of the most enduringly popular of the Revolutionary leaders. He is certainly well remembered in Galway where his statue, in carved limestone by Domhnall Ó Murchadha, stands in Eyre Square; he has a hurling club and a pitch & putt club named after him, and a terrace of houses in Bohermore bears his name. The City Museum currently has an exhibition entitled "War of Friends" which strongly features Mellows and should not be missed.
Most of the above was taken from a wonderful article by Bernard Kelly and Tomás Kenny which was one of essays in "Centenary Reflections on the 1916 Rising, County Galway Perspectives" published by the County Council.