The Summer-Set Hotel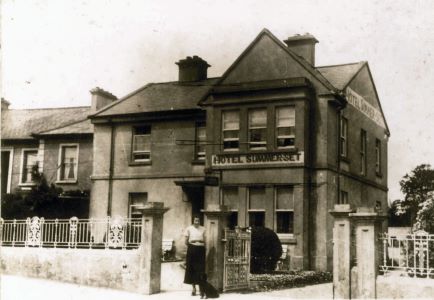 by Tom Kenny
This building on Kingshill in Salthill was originally a guest house known as St Columba's and was run by a Mrs Delaney. In 1933, Paddy and Bridie Hussey bought it and changed the name to The Summer-Set. They renovated and decorated it and advertised it as, "Beautifully Situated on the Sea Front, Home Comforts at Moderate Charges, Excellent Catering and Efficient Service under Personal Supervision, Touring Cars on the Premises for Hire, Free Lock-up Garage, Special Terms for Winter Months, Bus to Door." The phone number was Salthill 36.
Paddy Hussey was very handy and was always carrying out repairs to the building, adding on extensions, painting, doing carpentry, etc, and the guest house was gradually being extended and developed into a small hotel. He eventually converted the garage into two flats.
It was a genteel sort of hotel but always seemed to be busy. The bar was often quiet, but occasionally groups of singers would congregate there. There was no piano or any musical instrument available but that never stopped people like Gerry Glynn, Sonny Molloy and his brother Michael, Johnny Cloherty, and Tom Lynskey, and their gatherings became quite famous.
In 1969, the Husseys sold it to the Murphy family and they maintained the business but now called it The Palm Court. There were two palm trees in front of the hotel.
It was eventually taken over by Jim Cunningham and became known as The Lenaboy Arms with more emphasis on the bar. Later it was converted into a night club known as The Oasis which, in the eighties, became a go-to place for students and young workers. Its party nights were legendary. Things began to change in the 1990s as new venues opened up in the city centre and the nightlife moved from Salthill into town and the Oasis closed down. The venue underwent a number of transformations, and eventually it was known as Liquid when it finally closed down altogether and has lain derelict since.
This building is about to be demolished so it would seem that the landscape of the lower part of Kingshill will soon undergo a dramatic change with the redevelopment of this site, the site of the Warwick Hotel, and that of what was formerly Finan's house across the road.