IN MEMORY OF PA BOYLE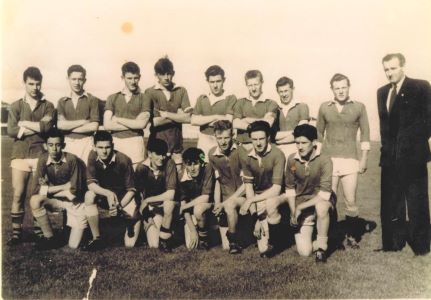 by Tom Kenny
In 1940, Shantalla was just green fields with an occasional farmhouse. A decade later, it was a sprawling housing estate with a large young population. They were slowly developing a sense of community, but sadly, they had no facilities such as parks or pitches to play games on.
In an attempt to rectify this situation and with a view to starting a GAA club in the area, four young men met in Joe Smyth's house in 1956 for informal discussions. These were Pa Boyle, Brod Flaherty, Peter Forde and Wally Forde. The club was established and named 'St. Michael's' and the first AGM was held the following January in Tom Connolly's house in Lower Shantalla Road. Gus Smith, a tailor, was elected chairman and Martin J. Cooke and Wally Forde were appointed as joint secretaries. It was a hurling club and in its first year registered junior and under-age teams. The co-founders all played on that first junior team.
They had no financial support outside of Shantalla, no money for transport, indeed at one game, only nine players turned up because of a lack of transport. In spite of or maybe because of early setbacks, the club was fielding thirteen under-age teams within two years.
One evening as dusk was falling, they could not see the hurling ball and somebody said, "If we had a football, we could train for much longer". So the following day, Peter Folan, who was an apprentice in Higgins', asked his boss, Michael Higgins senior, if he could supply them with a football, and he obliged, thus becoming the club's first sponsor. The effect that ball had on the club was dramatic as, in a very short space of time, football had taken over almost completely from hurling. In 1958, they got to the West Board minor hurling final when they were beaten by Castlegar, but they had a major success in winning the County minor football final by beating Ballygar. It was the first of three-in-row titles, so that within four years of being established, they had won three county minor titles. In 1960, three players, Harry Anderson, Sean Callaghan and Andy Donnelly were on the Galway team which won the All-Ireland minor title.
By 1961, the hurling section of the club had faded away with the players now lining out for the Fr. Tom Burke's team. The first player to put on the Galway senior football jersey was Paddy Ryan and he was quickly followed by Tom Corbett and Peter Folan. In 1970, Joe Corcoran brought huge honour to the club when he captained the county minor team to an All-Ireland title. A great crowd turned out in the city when Joe brought the cup home after that win. In 1972, Martin Noonan won an All-Ireland medal with the Galway under-21 team.
The club has gone on to achieve many honours, dozens of players have represented their county with distinction and thousands of young players have been introduced to the game wearing the traditional blue and white of the St. Michael's side.
Within a few years of their formation, for various reasons, three of the founders had left Shantalla, leaving only Pa Boyle of the original quartet. Every club needs a Pa Boyle, a man who dedicated himself to progressing the game in his area, who organised the training, selected teams, arranged the games, refereed the games and took great care of his players. He was one of the founders of the street leagues in the fifties. The Shantalla team was known as Fr. Lally's and anyone who played against them in those early years will remember Pa running up and down the sideline shouting encouragement to his side. He was the ultimate below-the-radar man when it came to taking team photographs. It was his good fortune to have men like Mick O'Toole, John Duignan, Sergeant McNulty and Mick Higgins helping him in those formative years, but Pa's dedication and loyalty to that club was unsurpassed. By day, Pa worked in Higgins', later in Hynes' and finally in Flaherty Markets.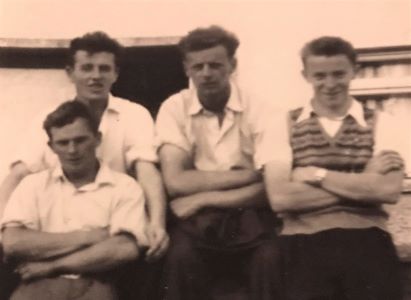 So to honour Pa, we have an image of the founders of the Club taken in St. Enda's Road, Shantalla in 1956, Pa Boyle in front with Brod Flaherty, Peter Forde and Wally Forde. Our main photograph of the first team to bring a county title to St. Michael's, the 1958 minors. They are, front row, L. to R.: Paddy Ryan, Harry Anderson, Peter Folan, Joe Welby, Tom Connolly, Tom Corbett, Martin Kelly. Back Row, Michael Duignan, Brian Geoghegan, Johnny Kilkelly, Michael McNena, Liam Cunningham, Tom Wade, Johnny Nestor, John Coyne and Mick O'Toole.
St. Michael's Club will commemorate Pa in a special way on Sunday next (17th of October) when the President of the GAA, Larry McCarthy, will unveil a headstone over his grave in Rahoon Cemetery at 3pm. Pa is buried with his half-brother Joe Potter and there will be a brief ceremony at the graveside and speeches later in St. Michael's clubhouse.