MOON'S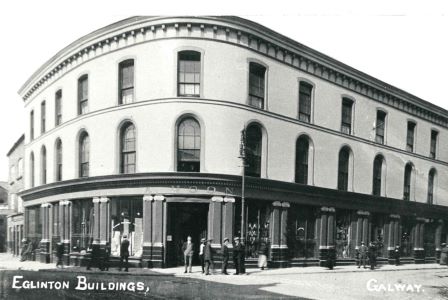 by Tom Kenny
This building was designed by a Mr. Farquarson around the year 1812. It has a three storey façade. The bays on the ground floor are articulated by paired fluted ionic pilasters while on the first floor, there are round-headed windows with moulded architraves which are flush with the wall surface and on the second floor segmented – headed windows similarly treated. The exterior has been preserved unchanged since it was built and is one of the most attractive corners in Galway, complemented by the rounded corner of what used to be McNamara's and the elegant corner of what used to be Dillon's.
In 1852, the Earl of Eglinton, Lord Lieutenant of Ireland, came to Galway to open the Eglinton Canal. The town went a bit mad naming places after him, the Eglinton Hotel, The Eglinton Cricket Club, the Eglinton Racquet Court and the Eglinton Baths in Salthill, Eglinton Street and Eglinton Buildings which is the one in our photograph.
It opened originally under the name Farquarson, then it became Farquarson and Moon, then Alexander Moon then Alexander Moon Ltd. Today, it trades under the name Brown Thomas, but the area will always be known to Galwegians as 'Moon's Corner'. There was a major change to the building in the late sixties when John Higgins, Eyre Street and his team gutted the interior and opened it up. Before that it was made up of 'lots of small rooms and a pokey stairs'. There was a lot of polished timber in evidence, counters and shelves It may not have been efficient, but it had more character, a lot of which went when they removed the special payment system. When you paid over your money, the salesperson put it together with an invoice into the bottom half of a wooden ball made of chestnut. The top half was screwed on and the ball was placed into a tube. A lever was pulled and the ball was shot up to a rail that ran from your counter to the cashier. After a few moments, you could hear your change coming back as the ball rolled back and into the tube in front of you. The ball was unscrewed and you were handed your change together with a receipt. This system was installed at every counter, and, for a minute or two, was exclusive to you. It was a nineteenth century system based on gravity and was unique in Galway. When they took it down, it was sold to an British Museum. Some other retailers, McCambridges, McNamaraas, McDonoughs and Liptons had more modern versions of this system, but the Moon's one had class.
There were a number of apprentices working in various departments in this store. They had accommodation on the top floor and were in the charge of Mick Leech.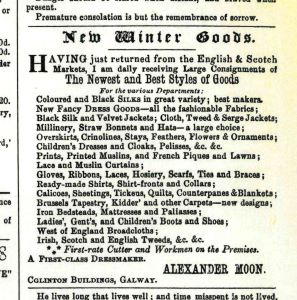 There was a haberdashery in the basement where they sold fancy goods and the men's tailoring department was also in the basement where Jim Hynes was in charge as was Mick Daniels later. You were very carefully measured and they made up bespoke suits for customers. In addition to the master tailors, there were several 'ordinary' tailors and also some apprentices. They would sit cross-legged on tables working away. The finished cloth was ironed on a large slate panel which was covered in baize. They even had the name of the company printed on the buttons they used on those suits.
This firm described themselves as warehousemen, drapers, ladies and gents outfitters, hosiers, breeches makers, sellers of Galway homespuns, Conemara homemade tweeds, Claddagh cloaking, household items, bedsteads, bedding, linoleum, carpets etc. They were agents for the celebrated "K" boots and shoes and Staffordia footgloves and they promised high grade workmanship from their own sanitary workshops and experienced workers. They advertised heavily in the local papers and were in the vanguard of promoting Irish made goods abroad – for their quality, durability and beauty.
Our illustrations today are a photograph of the façade taken c.1900 and a copy of an advertisement from the Monthly Illustrated Journal issue of January, 1875. Thank you to Dick Byrne for his help with this article.