Father Michael Griffin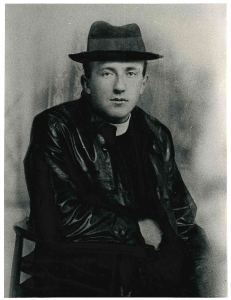 by Tom Kenny
Michael Joseph Griffin was born on September 18th, 1892 in Gurteen in East Galway, one of five children of Thomas Griffin and Mary Kyne. He was educated locally, then in St. Joseph's College, Ballinasloe and finally in Maynooth. He was ordained in April 1917 and was seconded to the Galway diocese.
He worked for a year in Ennistymon and in June 1918 was transferred to the parish of Rahoon which stretched from the river out to Furbo and Corcullen. He developed a great rapport with the children of the parish, spoke in Irish to young and old, organised feiseanna, Curragh races and donkey races on Silver Strand.
One hundred years ago this Saturday, on November 14th, 1920, Fr. Michael Griffin was lured from his house on Montpelier Terrace. He had gone to bed when somebody knocked on his front door. The knocking became loud enough for the people next door to hear it, so loud they reckoned the battering of the door was being done by the butt end of a revolver. Fr. Griffin eventually came to his window and spoke to whoever was outside and then opened the door to him. They left about 15 minutes later. People thought later he was going out on a sick call but he did not take the holy oils and the Eucharist with him, so whatever ruse they used to get him out of the house, it was not a sick call. He went peacefully.
Willie Mulvagh lived next door and he saw three men waiting outside Fr. Griffin's house. A Reverend Battley, a Protestant Clergyman, was out walking that night and was stopped and searched by three armed men in trench coats who spoke with English accents. It was widely believed that the person knocking on the door was young William Joyce, later known as 'Lord Haw Haw'.
On the Monday, there was no sign of Fr. Griffin so every priest within a radius of 20 miles was contacted, but none had seen him, so now there was deep concern that he had been kidnapped by the crown forces. The RIC were notified and promised to search for the missing man. Rumours abounded that he was dead, murdered. A waitress working in Teach na mBia on William St. (where Taaffes is now) overheard a Tan saying "There was a bloody parson shot last night". Chrissie Lyons, daughter of an RIC sergeant, overheard a Tan in Hession's pub in Mary St. saying "The parson is in the bog". Dr. Walter Walsh was in Baker's Hotel in Eyre St. when he heard three Tans in their cups boasting about what they had done to "The bloody Shinners and the parson".
The bishop and priests of the diocese issued a statement holding the British Government responsible for this outrage upon the Catholic priesthood. In the House of Commons, Joe Devlin addressed a question to Sir Hamar Greenwood, the Chief Secretary for Ireland, about their statement. Greenwood said that Fr. Griffin was an extreme Sinn Féiner, a protagonist of Patrick Joyce who was also kidnapped some time ago and it was feared that some friends of Joyce were determined to avenge him. "I do not believe that this priest has been kidnapped by any armed forces of the crown".
By now, volunteers and search parties were out combing the hills and villages around the city, but to no avail. Prayers and novenas were offered for his safe return. By the Friday, it was generally accepted that Fr. Griffin was dead. The question now was where was his body, hopefully he had not been tortured and his body not desecrated.
On the 20th of November, his body was found buried in a bog in Cloch Scoilte near Barna.