The Turf Market at Raven Terrace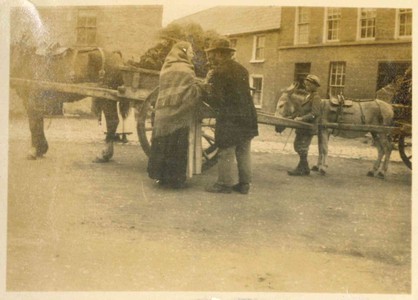 Turf was an important and indigenous fuel and so turf markets were an important factor in Galway life (long before anyone ever thought of carbon emissions) especially at this time of year as one prepared to head into winter. Farmers from Rahoon or Barna or surrounding areas would bring their neatly stacked cartloads of turf into town and sometimes go from door to door trying to sell their product.
Those who did not have particular customers more often than not would go to designated turf market locations such as Eyre Square, Woodquay, the Small Crane or Raven Terrace/Garryglass at the corner of Wolfe Tone Bridge. There was a weighbridge opposite where the Fire Station is now and this was often used in their transactions. Having sold or bartered their turf, the farmer would then deliver it to the customer.
Our photograph was taken c.1930 roughly from the corner of Monroe's pub at the west side of the canal bridge at Dominick Street. We are looking towards Raven Terrace with the canal on the left. The building on the right was where McGuire's shop is today. It was a public house then, known as the Claddagh Bar and was later occupied by Phil Coyne. It looks as if a cartload of turf is being loaded into his side door as his front door faced the canal. Next door to him was a sweet shop owned by two sisters, Hanna and Sheila Gannon, one of whom was known as 'Sweet Sixteen', she always dressed in black and wore mini-skirts long before they came into fashion.
Next door was John and Annie Connolly's pub where they also kept lodgers, one of whom was Edward McGuire, a mechanic who worked in Higgins' Garage. His wife to be, Ethel Corbett, worked around the corner in George Gay's furniture store. When they decided to get married, they bought Connolly's and changed the name to McGuire's Bar. At the end of the terrace was Cahill's Pub which later became Keanes and later still, Haverty's Bar.
So this short terrace of four buildings, which was originally named Burke's Terrace after Fr. Tom Burke, had one sweet shop and three pubs.Around the corner, facing the Claddagh, was Beatty's Forge. It was later taken over by Jack Mitchell who ran a motor repair shop there.Notice the cobbled footpath and some stray wandering hens from the Claddagh. In to the right of the foreground, not visible in our photograph, was Johnny Connolly's House where he sold bran, flour and meal. This building was at an angle to Raven Terrace and was later demolished in order to widen Lower Fairhill Road.