Old Galway
Old Devon Park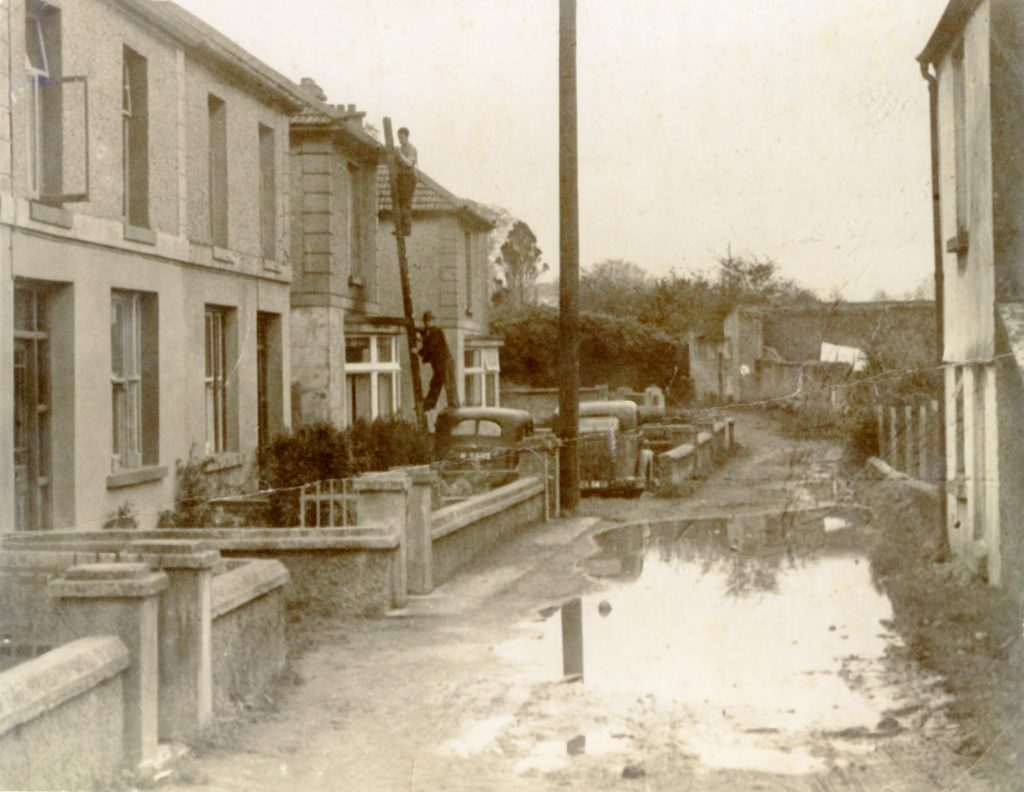 The area we know today as Devon Park was originally part of the O'Hara Estate which was the land around Lenaboy Castle (now St. Anne's on Taylors Hill). The main gates to this estate were, and are, next door to the Warwick Hotel. Part of the estate wall ran along the main Salthill Road.
Devon Park as we began when Bertie Simmons broke through part of that wall and built two houses, one on the corner of the main road that became Mitchell's (where the fish shop is today) and one behind it where the Hartigan family lived. There was a small dirt lane running past these houses and then the Gleasons who were in the construction business moved in and built what was known as 'The Gleason Estate' ...the crescent of houses running up the hill to Lenaboy. Then the Corporation built Devon Park, two wings of council houses running parallel to the main Salthill Road. These houses are described today as 'Old Devon Park'.
Andy Lowry is the man we see at the bottom of the ladder which looks precarious. The residents of 5,6,7,8 & 9 often had to walk on Daly's and Gilbert's wall to get out as the road was inclined to bad flooding. It was finally surfaced in the 1950's.
Among those who lived on the 'West Wing' were Tom Hanrahan, Professor Coll, Dick Byrne, the Reck Family, Tom Coogan, Miss Aitken, Ronnie Burke, Mr. O'Connor, Con Sullivan, Mr. O'Boyle, The Halloran family, the Morris family and Garda Cummins.
Most of the rest of Devon Park was built by Malachy Burke in the 1950's.
The Devon Park residents are now working on a local history, so if you have any old photographs, maps, documents, press cuttings or stories about their area, they would love to hear from you. Everything will be cared for and returned. Contact Mary Fahey at 087 610 7572 or at This email address is being protected from spambots. You need JavaScript enabled to view it. . The first question to be answered is, where did the Devon in Devon Park come from?