Robert MacDonald, Sanitary and Heating Engineer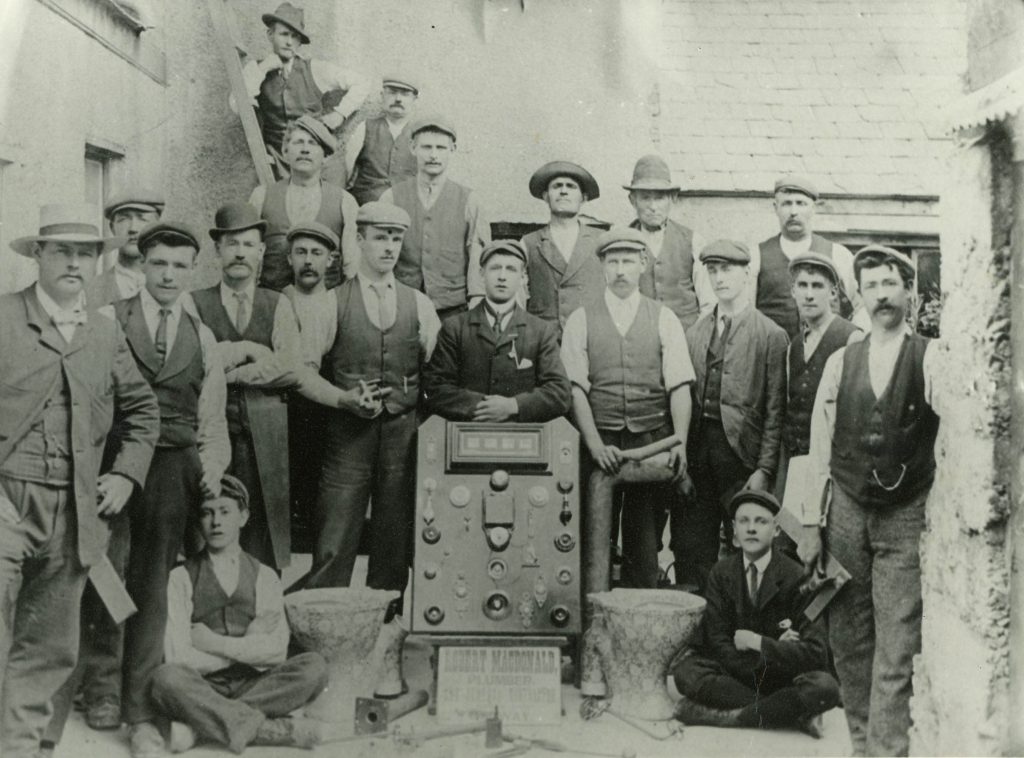 This photograph was taken in 1900 of the staff of Robert MacDonald, the plumber from Dominick Street. The business was started by his father, Peter MacDonald (late manager for Ross and Murray), who advertised himself in 1887 as "Plumber, Brassfounder and Gasfitter".
Galway had a general sewage system for centuries but it was mainly designed to accommodate street washings. It was around the 1890's that the toilet and sewage systems as we know them today, were introduced. The delightful toilet bowls we see in the front of picture were possibly among the first of their type to be introduced to Galway.
Robert MacDonald advertisements said he "Furnished for internal household plumbing, including baths, W.C.'s wash basins, domestic hot water circulation and kitchen ranges fitted up in every manner, consistent with the most recent and approved modern principles". He also provided "High and low pressure Hot water heating apparatus for churches, convents, country mansions, houses, court houses and building of every description".
Those in the photograph are, from the left; Robert MacDonald (in the straw hat); Tommy Lane; Michael Conneely (in the hard hat), the foreman; Mr. Geraghty; Jim Reid from Sea Road; Frank MacDonald who is standing behind the bell board indicator in the centre; Michael Naughton; -----------; ----------- ; Mr. Bramley. The two seated in front are Mr. Naughton and Mr. Fahy who later became a librarian.
The man at the very back, with the soft hat, was Finnegan, a plasterer; just in front of him was a Mr. Rainey, and then going right, Ned O'Neill and Pat O'Neill, two brothers who lived in the gate lodge of Col. Joyce's house in Mervue. Next to them was Mr. Leonard from Newcastle in the turned up hat and beside him Mr. Jordan from Dominick Street. We don't know who the man at the end was but at the time a number of plumbers came from Scotland to work here, so he, and the other unidentified men, may have been Scottish. The photograph was taken in the yard behind the shop where MacDonald's Pharmacy is now. At the time it was the only business in the street, all of the rest of the buildings were residential.