Galway Poetry Trail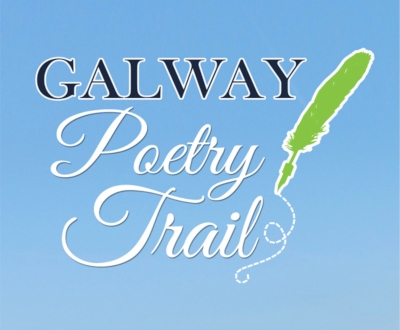 The Galway Poetry Trail is a series of over 20 commemorative plaques featuring the writing of well known Irish and International poets, which are installed around the City of Galway.
Pieces of creative writing about Galway are celebrated by being cast in bronze or engraved in stone and situated in an environment that reflects their content. For example, James Joyce's poem "She weeps over Rahoon" is placed on the wall of Rahoon Graveyard, Gerald Dawe's poem "The Tribune" is on the facade of the Connacht Tribune offices etc. Each plaque offers the viewer a moment of quiet contemplation with words to lift the soul in a busy urban environment. They should be seen as part of the fabric of the city itself.
Often with a Galway twist, the Galway Poetry Trail and includes plaques with pieces by James Joyce, Mairtín Ó'Direáin, Seamus Heaney, Pádraic Ó'Conaire, Walter Macken, Louis MacNeice, Kevin Faller, Moya Cannon, Patricia Burke Brogan, W.B.Yeats, Gerald Dawe, Rita Ann Higgins, Gerard Hanberry, George Moore, Máire Holmes, and several others.
This project is organised jointly by Kennys Bookshop, Galway City Council and Cúirt International Festival of Literature and has been added to annually since the first plaque was installed in 2005.
Galway Poetry Trail Plaque Unveilings
2019 Singer Johnny Duhan unveiled an extract from 'Priests' by Ken Bruen, at the side of Ard Bia Nimmos restaurant on The Spanish Arch
2019 Galway City Mayor Neil McNeilis unveils a plaque of 'A Town Tormented by the Sea' at the side of Jury's Inn Hotel, Galway
2018 'The Crane Bar, Galway' - a poem by Tom French is unveiled on the wall of The Crane Bar in Galway's West End
2017 Tom Kilroy unveiled Paul Durcan's poem 'The One-Armed Crucifixion', illustrated with a John Behan RHA design.
2017 Little John Nee, Salthill Promenade - Haiku, launched by Sunny Jacobs & Peter Pringle.
2017 Terry McDonagh, NUI Galway - 'UCG by Degrees', unveiled by Tom Kenny.
2016 Arthur Colahan, Salthill Promenade - 'Galway Bay' and translation in three languages - unveiled by Mayor of Galway Councillor Frank Fahy.
2016 Máire Holmes - Geraghty's Menswear, Galway Market - 'Margadh', unveiled by Rev Gary Hastings.
2015 Pádraic Ó Conaire, Grattan Road – an extract from "Deoraíocht" - Unveiled by Páraic Breathnach.
2015 Gerry Hanberry, Tigh Neachtain – "The 'Kasbah' on Quay Street" – Unveiled by Tom Kenny, Kennys Bookshop… followed by readings & singing in Tigh Neachtain with contributions by Fran McPhail, the poet Gerry Hanberry, performer Seán Tyrrell and local historians Tom Kenny and Dicky Byrne.
2015 George Moore/WB Yeats – Salmon Weir Bridge – Extract from "Hail and Farewell" – Unveiled by poet Martin Dyar.
2014 Rita Ann Higgins, Richardson's Pub, Eyre Square – "Men With Tired Hair" - Unveiled by Professor Adrian Frazier.
2013 Gerald Dawe, The Connacht Tribune – "The Tribune" – Unveiled by Mayor Terry Flaherty and Gerald Dawe.
2013 Kevin Faller, River Walk at O'Brien's Bridge "Home Town" – Unveiled by the poet's son John Faller.
2012 James Joyce, Rahoon Cemetery – "She Weeps Over Rahoon" – Unveiled by Mayor Hildegarde Naughton.
2010 Moya Cannon, Wolfe Tone Bridge – "Bright City" - Unveiled by poet Gerry Smyth, illustration by Pádraic Reaney.
2009 Roger McGough, Children's Playground, University Road – "Uncle Philip" – Unveiled by Pádraic Breathnach.2013
2009 Patricia Burke Brogan - 'Make Visible the Tree', Fairgreen, Galway.
2008 Máirtin Ó Direáin, Promenade – "Fear Lasta Lampaí – Gaillimh 1928" – Unveiled by the poet's daughter Niamh Ó Direáin.
2007 Louis MacNeice, Nimmo's Pier – "Galway" – Unveiled by Tom Paulin, poet.
2007 Walter Macken, Nimmo's Pier – Extract from "Rain on the Wind" – Unveiled by Fr. Walter Macken.
2006 Seamus Heaney, Salthill Promenade – "Girls Bathing, Galway 1965" – Unveiled by Seamus Heaney.
2005 W.B. Yeats, The Racecourse, Ballybrit – "The Galway Races" - Unveiled by John Coyle.
Read about more Galway Poetry Trail plaque unveilings here >>>
Have a look at the launches of various Galway Poetry Trail plaques on Kennys Bookshop YouTube channel >>>