Tom Kenny remembers Tim Robinson
Details

04 April 2020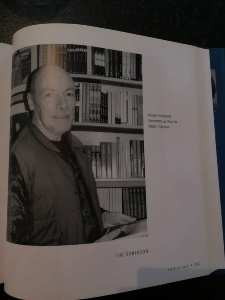 TIM ROBINSON R.I.P.
Acclaimed Connemara writer, Tim Robinson died on April 3rd, 2020, aged 85. Tom Kenny remembers him here.
The legend is that on his first visit to the Aran Islands, Tim Robinson asked his landlady if she had a map of the islands. "There is no such thing, maybe you would make one for us".
Many years later, the late John Moriarty launched one of Tim Robinson's trilogy on Conamara in our gallery. He told the large crowd he always had an ambition to visit Turtle Island in Canada, a sort of Mecca for North American Indians. He eventually achieved his aim and gave some lectures there. There was a small drinks party in his honour on the night before the left the island.
An Indian chief approached John and handed him a crumpled up brown paper parcel in which there was a pair of beautifully hand-stitched moccasins, decorated with symbols. "This is my gift to you that you may walk our landscape and understand its hardness and softness, its highs and lows, its richness and many subtleties". And then he carefully removed another sheet of brown paper from under his jacket from which he produced an eagle's feather. "This is my special gift to you, this eagle's feather represents our native Indian culture which is just as delicate as the feather, can easily be broken, smashed, trampled on and destroyed. I hope you will always treat the feather and our culture with the respect they deserve"
And then John turned to Tim and said "Thank you Tim for giving us the moccasins to walk our own landscape, to help us understand and appreciate its wonders, its variety, its beauty, its subtleties …… and thank you most especially for giving us this eagle's feather "holding Tim's book aloft "Our native culture captured so beautifully and sensitively between the covers of this book. I am not sure we deserve it but I hope it will help us realise how delicate our culture is and realise how delicate it is and treat it with the respect it deserves. Thank you Tim, we are all in your debt".
We are deeply saddened to learn that Tim had died just two weeks after his wife and partner Mairéad. We would like to think they are already mapping heaven. They have certainly left their mark on earth by giving us an extraordinary and rich legacy. Solus na bhFlaitheas dá n-anamacha uasal.
When John Moriarty died, they found the eagle's feather on his bedside locker.
Tom Kenny