Kennys Celebrating 80 Years in Business in 2020!
Details

03 January 2020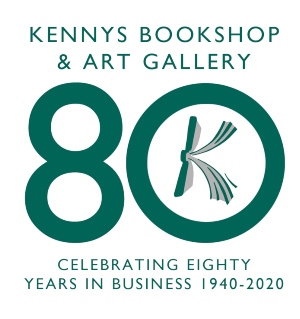 We, Kennys Bookshop & Art Gallery are delighted to be celebrating 80 years in business this year! The bookshop was opened in Galway, Ireland in 1940 by Des & Maureen Kenny and has grown and expanded ever since.
In addition to 5 of Des & Maureen's 6 children, several of their grandchildren now also work in the business full-time. As well as the online trade the business now includes a retail bookshop, an art gallery, a book bindery and a Libraries & Special Collections division. In an era where homogenous, international high street stores have closed many independent Irish businesses, Kennys has managed to adapt and survive for 80 years.
For 2020, we have a full programme of exhibitions running throughout the year, including group shows, sculpture, painting, printmaking and children's art. Events include sculptor John Behan's show 'Migrants', new paintings by Pádraic Reaney, an Old Galway photographic exhibition and an exhibition of European children's books illustrators – all as part of Galway 2020's programme.
The year will finish with a special exhibition in November, '40 Visual Artists / 40 Writers', which will celebrate Kennys 80-year history.
Click here to view our calendar of events for 2020 >>>
About Us
Kennys.ie is the longest running online bookshop in the world and competes directly with Amazon, Book Depository and others. We were also the first business in Ireland to go online in 1994.
Many acclaimed literary figures have gone through the bookshop's doors over the years including Seamus Heaney, Edna O'Brien, John McGahern, Ben Kiely, Sebastian Barry, Paul Durcan, Roald Dahl, and Allen Ginsberg.
At Kennys, we are dedicated promoters of Irish writing and publishing, and send thousands of Irish books overseas annually, furnishing institutions including The Library of Congress, Harvard, Boston College, Princeton and the University of Notre Dame. We also deal in Special Collections and have sold many writers' archives including those of Donal Ryan, Dermot Healy and Michael Longley, and the publishers' archives of Raven Arts Press and Weidenfeld & Nicolson, to name a few.
The Kenny Gallery has been organising exhibitions of original artworks since the early 1950s, and has showcased the works of Jack Yeats, Paul Henry, Sean Keating, George Campbell, Kenneth Webb, Louis le Brocquy, Andy Warhol, Salvador Dalí and Robert Ballagh amongst others, and many emerging Irish artists who have gone on to become household names.
A wise man once said "Kennys Bookshop is a world of its own and a key to worlds unknown."
Click here to read more About Us >>>