Tom Kenny remembers Gay Byrne
Details

04 November 2019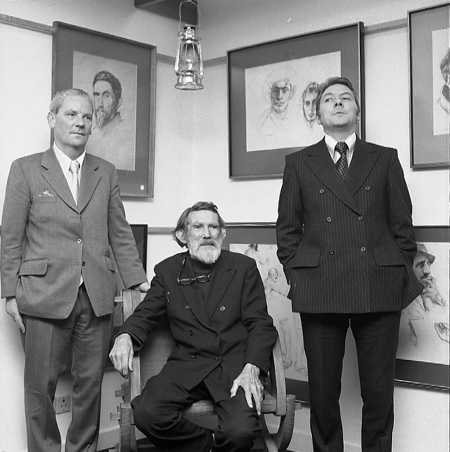 It is with great sadness that we learned of the passing of Gay Byrne today. Our first meeting with Gay Byrne was in November 1973 when he opened an exhibition of paintings and drawings by Seán Keating in our Salthill Gallery.
There was an ESB strike at the time so we hung tilley lamps around the gallery and gave everyone a candle as they came in. Gay made a wonderful speech, sensitive and witty, and he had just finished when all the lights went out. He had already created the atmosphere and it is fair to say that in an instant, there was a different kind of electricity in the gallery.
He was a broadcasting original, the ultimate professional, always well prepared, witty and sensitive and blessed with a terrific radio voice. He and Kathleen came to Galway regularly and for many years, never missed the Oyster Festival.
Ní bheidh a leithéid ann arís. Solas na bhFlaitheas dá anam uasal.
- Tom Kenny
Pictured in The Kenny Gallery, Salthill in the 1970's, L-R are Des Kenny, artist Seán Keating and Gay Byrne.