Supporting Ireland's Great Hunger Museum
Details

11 February 2019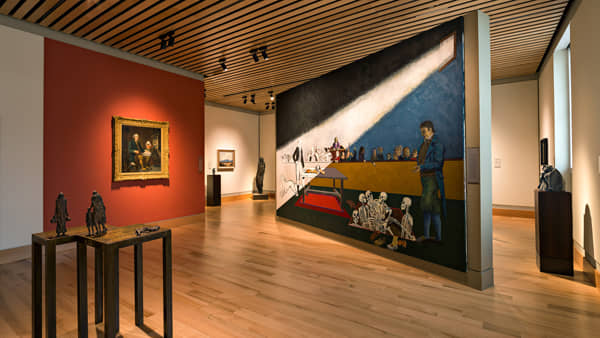 Please support Ireland's Great Hunger Museum - Tacaigh le Músaem an Ghorta Mhóir le do thoil
Ireland's Great Hunger Museum at Quinnipiac University in Connecticut USA, contains the world's largest collection of visual art, artifacts and printed materials relating to The Great Irish Famine. Portraying its impact and significance through art, the museum's mission is to educate audiences of all ages about the causes and consequences of Ireland's Great Hunger, and how it continues to relate to contemporary issues.
This unique museum is currently being challenged to become self-supporting in the next year and, therefore, it requires your support. The best ways to support the museum are to donate a gift or become a member. There are many different joining levels from just $25 per annum, and every contribution directly supports the museum.
The artwork in the museum, by some of the most eminent Irish and Irish-American artists of the past 170 years, such as Daniel Macdonald, James Mahony, Lilian Davidson, Margaret Allen, Howard Helmick, James Brenan, Paul Henry, Jack B. Yeats, William Crozier, Hughie O'Donoghue, Brian Maguire, Micheal Farrell, Glenna Goodacre, Rowan Gillespie, Robert Ballagh, John Behan and Alanna O'Kelly, fulfil one of the obligations of memory — they honour the dead.
"The Irish Famine of 1845 to 1852 was the greatest social calamity, in terms of morality and suffering, that Ireland has ever experienced."
Michael D. Higgins, President of Ireland
Kenny's Bookshop & Art Galleries fully support the preservation of Ireland's Great Hunger Museum.
If you would like to discuss your support please contact the Museum on +1 203 582 6500 or click https://www.ighm.org/support.html