Brenda Fitzmaurice & Gabriel Fitzmaurice back in Kennys after 34 Years!
Details

07 August 2015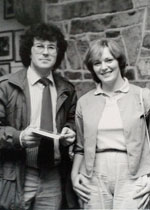 It was with great pleasure we welcomed back Brenda Fitzmaurice and Gabriel Fitzmaurice to Kennys Bookshop this week... last photographed together here in 1981.
---
Deeply rooted in the literary tradition of North Kerry, Gabriel Fitzmaurice is a poet, broadcaster, writer, translator, singer and raconteur. He was born in 1952, in the village of Moyvane, Co Kerry where he still lives. For more than three decades, he taught and later served as principal at his local national school but is now happily retired. He has been called "poetry's answer to John B Keane" (Books Ireland) and his poems have been described as "comparable to Burns for their insight and lyricism" (The Irish Times ).
Brenda Fitzmaurice studied art at the Institute of Art Design and Technology and her works are highly praised.  Primarily a land and seascape artist, her paintings have received critical acclaim for their skillful evocation of the character of her subjects. She exhibits both as a solo artist and in group exhibitions. She has collaborated with poets and writers on book covers and illustrations for texts.
Brenda and Gabriel are married and they have two children, Nessa and John.
We are delighted that the careers of both artists have flourished in the interim...
Search painitngs by Brenda Fitzmaurice on TheKennyGallery.ie >>>
Search books by Gabriel Fitzmaurice on Kennys.ie >>>
(Photo Dean Kelly (c) Kennys Bookshop 2015)