Kennys.ie shortlisted for Book Retailer of the Year Award
Details

19 March 2015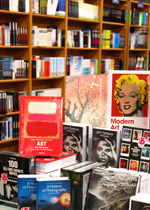 Kennys Bookshop is one of two Irish bookshops shortlisted in the Bookseller Industry Awards, the finals of which take place in London in May. This recognition of the quality of Irish bookshops is welcome at a time when many are struggling to survive. Kennys was the second bookshop in the world, and the first company in Ireland, to have a website.
Celebrating 21 years online in 2015 Kennys.ie has developed into a significant online presence with millions of books and free delivery worldwide on every purchase. What sets Kennys.ie apart is that it is a bookshop online. The 'Booktalk' section tries to re-create online some of the bookshop atmosphere with video reviews, author readings, news on book awards, Old Galway columns, Desi's Diary etc. Kennys promote books through their weekly newsletter, their YouTube Channel, their Facebook page and their Twitter account. They are actively involved in the community, running initiatives such as 'Books for Hospice' and sponsoring other sporting/charity events. Kennys is celebrating two key anniversary milestones in 2015 - 75 years selling books over the counter and 21 years selling online. Managing Director, Conor Kenny, is thrilled that Kennys.ie has been shortlisted for the Book Retailer of the Year Award – "It is fantastic to have Kennys.ie shortlisted in his category – it is a wonderful recognition by the Bookseller of the range and value we have made available through Kennys.ie" According to The Bookseller magazine "Kennys remains family owned and run, but has an outlook that goes well beyond its Galway shop…. It refined its website further in 2014 to better compete with Amazon, adding more topical features and recommendations and better search functions…. Kennys takes the fight to Amazon in Ireland with its revamped online offer" For further information please contact:
Conor Kenny, Ph: (091) 709350 Email:

This email address is being protected from spambots. You need JavaScript enabled to view it.
Kennys Bookshop, Liosbán Retail Park, Tuam Road, Galway.