Browsing on Kennys.ie
Details

30 January 2015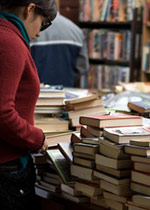 We have a huge selection of books on our website and we hope you enjoy looking through them. Here are some hints for better browsing on Kennys.ie...
---
Not all books are included in the Browse Categories. If you are looking for something in particular, try the Simple Search at the top of each page (or the Advanced Search which can be accessed from below the Simple Search).
Some books will appear in multiple categories eg a sports biography might appear under both 'Sport' and 'Biography'.
Clicking the Category Title in the tree on the homepage will explode the Navigation Tree and clicking on the genre name eg. 'Biography' will bring you to the Genre Landing Page.
Our Navigation is based on BIC codes and we have added in some additional genres of specific Irish Interest eg 'Irish History' and 'Irish Language/Leabhair Gaeilge'.