Fishtastic!
Details

13 May 2011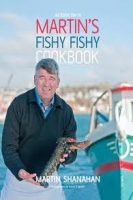 Tomorrow is National Fish and Chip day! Beginning last year, the now annual event is the perfect excuse to indulge and ease those mid-week blues. And with selected chippers all around the country offering half price meals, it will be hard to resist.
For those of us aiming for a cleaner conscience, however, why not stay at home, avoid the grease, and make your own with the help of Martin Shanahan's Martin's Fishy Fishy Cookbook: Recipes from Fishy Fishy
---
Probably the most amount of times you will see the word 'Fishy' in a title, ever, this charming cookbook offers a wide selection of ideas taken from the popular tv series Martin's Mad About Fish. His mantra 'No Skin, No Bone, No Fear' is reflected in the recipes, although that said, they are by no means unadventurous. Ranging from wasabi in salmon and cucumber wraps, to risotto with smoked haddock - not forgetting the staple Fish and Chips - his mission to 'take the fear out of fish' may just be succeeding.
For other ideas, check out our Cookery Books section, where you'll find hundreds of discounted cookbooks!
Happy cooking!