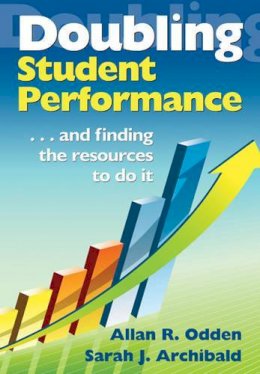 Doubling Student Performance: . . . And Finding the Resources to Do It
Allan Odden
FREE Delivery in Ireland
Description for Doubling Student Performance: . . . And Finding the Resources to Do It
Paperback. This valuable text combines the latest research with a national study of diverse schools that dramatically increased student achievement by implementing key strategies and reallocating resources. Editor(s): Odden, Allan R.; Archibald, Sarah J. Num Pages: 184 pages, black & white line drawings, black & white tables, figures. BIC Classification: JNK. Category: (P) Professional & Vocational. Dimension: 252 x 180 x 13. Weight in Grams: 398.


"In my work, I see the power of good schools to change young lives for the better almost every day. This book takes us behind the doors of unusually high-performing high-poverty schools to show us how they do it and where they get the funding. The book is a valuable tool for educators who want to improve their results and a reminder to parents and policy makers that we should never expect less."
—Kati Haycock, President
The Education Trust

Radically reform your school and improve academic achievement using readily accessible resources!

At a time when the United States is struggling with far-reaching ... Read moreeducational reform, school leaders need a blueprint for dramatically improving student success and supporting those efforts by effectively reallocating and managing available resources.

Doubling Student Performance combines the latest research with the authors′ national study of diverse schools that were able to significantly boost student achievement. Strategies focus on reducing class size, promoting professional development, locating necessary funding, and providing academic support to struggling students. School leaders will find:
Examples and case studies that include high-minority and high-poverty schools
10 key strategies for dramatically increasing student achievement, such as setting ambitious goals and emphasizing a collaborative culture
Clear steps and specific tools to successfully reallocate resources
This book is a valuable tool for educators and policy makers who understand that reform is only possible when schools have the human and financial resources to do it.
Show Less
Product Details
SAGE Publications Inc United States
Thousand Oaks, United States
Usually ships in 4 to 8 working days
About Allan Odden
Allan Odden is Professor Emeritus of Educational Leadership and Policy Analysis at the University of Wisconsin-Madison; he also is Co-Director of the Strategic Management of Human Capital (SMHC) in public education and Co-Director of the Consortium for Policy Research in Education (CPRE). CPRE is a consortium of the University of Wisconsin-Madison, Pennsylvania, Harvard, Michigan, Northwestern, Teachers College-Columbia University, and Stanford
... Read more
Reviews for Doubling Student Performance: . . . And Finding the Resources to Do It
"This book provides examples of urban, suburban, and rural schools and districts that have doubled student performance. These district and school best practices are chronicled throughout this book and accompanied by a series of ten steps to doubling student performance. The authors detail how the reallocation of time and resources contributed to the doubling of student performance."
Gerald N.
... Read more
Goodreads reviews for Doubling Student Performance: . . . And Finding the Resources to Do It