GALWAY'S TRIUMPH IN THE 1923 FINAL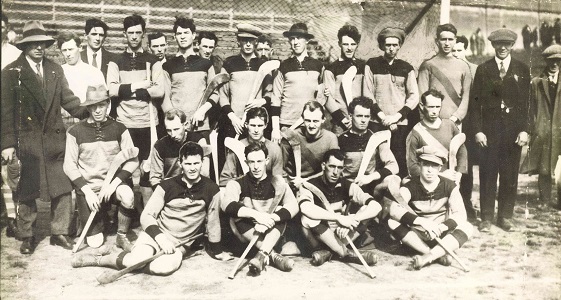 by Tom Kenny
This game was not actually played until September 1924 when Galway faced Limerick in a 'dour hour's hurling'. "Physical strength, fitness and courage were the dominating factors. The play was strenuous if fitful and an exciting period followed the interval when Limerick made determined efforts to wipe off the arrears. Galway finished with great dash and were clearly superior on the day's form". These were the words of P.D. Mehigan who reported on the game for the Irish Times.
"McKenepick, Dublin, refereed and he had rather a busy time, for the game was robust and vigorous from the outset. Limerick had a strong wind behind them from the city goal and Gleeson opened the scoring for them with a clever point from the side line. They continued to press but the Munster forwards were wayward in their shooting, ball after ball being sent wide.
Then Harney had a free and Limerick's posts were stormed. A struggle at the goalmouth followed and Kenny, the Galway captain, coming right up the field, clinched matters with a hot shot into the net. The Connaughtmen attacked resolutely and McGrath's shot for a second goal was greeted lustily by the western following. Humphreys scored a point for Limerick then Gleeson smashed a goal through for them and put them within a point. The hurling was crude in many succeeding passages. Humphreys scored a point for Limerick but then Harney and King doubled skilfully and Kelly, rushing in, bundled the keeper Hanley and ball into the net. All square at half time.
Galway now had a strong wind behind them and Gill, at left half back was playing brilliantly lobbing high soaring balls in to the area from his own half. He had skilled finishers waiting in there and Gibbs with a fast shot put the ball in the corner of the net. Morrissey repeated the score and after a thrilling bout, McGrath put Galway three goals up with a clever crossing shot from 30 yards out.
Spectators were now treated to the best hurling of the match with Limerick going all out to avert defeat. McInerney, Keane and Hough came into the picture, meeting flying balls and sending them back farther than they came, but Mahony in the Galway goal was as safe as a stone wall making several important saves. Neville ultimately pushed a goal through for Limerick and McGrath repeated the score, but King shot a point from halfway for Galway.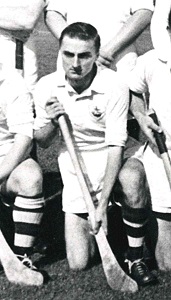 Both teams strained every muscle, falls and minor accidents were frequent but Galway were the fitter team, came stronger out of the rucks, backed up better, and as a result of strong accurate hitting, assumed control. Limerick made efforts to turn the tide and only the fine defensive tactics of Keane, Hough, McInerney and Murnane held them out to the end when Galway were sterling winners on the score The game was stubbornly contested but Galway deserved all the cheering they got at the end".
Our photograph shows the team. Back row; J. Berry (trainer), J. Dervan, Andy Kelly, Dick Morrissey, Martin King, Ned Gilmartin, Staff Garvey, B. Gibbs, Mick King, Tom Kenny (Chairman). Middle row; Tommy Fleming, Jim Power, J. O'Mahony, Ignatius Harney, Mick Gill, M. Callinan. In front are Leonard McGrath, Mick Dervan, Mick Kenny (captain) and J. Morris.
A group of ex-county players, Báróirí na Gaillimhe are organising a dinner tomorrow evening in the Raheen Woods Hotel in Athenry to commemorate the centenary of this momentous victory which I am sure will be a memorable event as it is completely booked out.
While we celebrate those men who won Galway's first All-Ireland hurling medals, we must also celebrate the life of Jimmy Duggan who died recently. He played in three All-Ireland finals in the 1950s, but sadly never on the winning side. He grew up on College Road and loke his siblings Paddy (Mogan), Seán and Monica, was presented with his first hurl by Eddie O'Moore Flaherty. They were all very young and played hurling on the street, in the sportsground, Mahon's field, Boland's field beside the Dublin Road, The Nun's field in Forster Street and in Eyre Square. All of them went on to represent Galway with distinction. It was often said that there was no better hurler "pound for pound" than Jimmy. He played minor for Mellows and won county championships in football and hurling, a unique double and he captained the county minor team which was beaten by Tipperary in the final that year. He had a long and distinguished career and later became a noted referee who took charge of a number of national finals.
He was a stylish hurler, a beautiful striker of the ball, a wonderful ambassador for the game of hurling, for his club, for his city and his county. A gentleman. Solas na bFhlaitheas dá anam uasal.