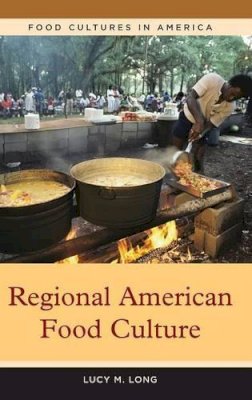 Regional American Food Culture
Lucy M. Long
FREE Delivery in Ireland
Description for Regional American Food Culture
Hardback.
Regional American food culture still exists and is strongest in more rural, homogenous areas of the country. Regional foods are a major component of regional identities, and Americans make a big to-do about their home-grown favorites. The current food cultures of the major American regions-northeast/New England, the Mid-Atlantic, the South, the West, the Midwest-and subregions are illuminated here like never before. Everyone knows something about the iconic fare of a region, such as Soul Food in the South and New England clam bakes, but with this resource readers are able to delve wider and deeper into how Americans from Alaska

... Read more
Product Details
Bloomsbury Publishing Plc United States
Usually ships in 5 to 9 working days
About Lucy M. Long
LUCY M. LONG is an Instructor in Internation Studies and American Cultures Studies at Bowling Green State University. She is the editor of Culinary Tourism: Eating and Otherness (2004) and has written on food and folklore.
Reviews for Regional American Food Culture
…outstanding publication…Anyone seeking knowledge of food in the United States will find it one of the best and most exhaustively researched and invitingly written sources.
ARBAonline
For general readers, Long (international studies and American culture studies, Bowling Green State U.) provides an overview of regional American food cultures. She discusses the history of food cultures in various regions
... Read more
Goodreads reviews for Regional American Food Culture