Old Friends and New Friends at Kennys Bookshop
Details

06 May 2015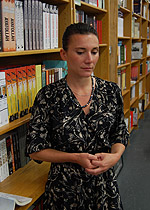 The Cúirt International Festival of Literature assembled a wonderful collection of writers in Galway again this year.  Kennys had the privilege of welcoming back many old friends - and some new ones!
On Friday 24th April we had the chance to video two very different writers - Jennifer Johnston and Claire-Louise Bennett.
---
Jennifer Johnston, recently chosen as one of The Irish Times top 12 Women Writers of all time, read from the beginning of  her seminal "How Many Miles to Babylon" (1974)... an intriguing start to a story (which this writer was not familiar with and had to buy immediately to continue reading!).  Jennifer has visited many times and reminisced about days gone by.
Search books by Jennifer Johnston on Kennys.ie.
That evening we were very happy to meet the up and coming writer Claire-Louise Bennett, who read from her first collection of short stories "Pond".
We wish both writers all of the very best - may the ink keep flowing!
Search books by Claire-Louise Bennett on Kennys.ie.
[To view either video on YouTube please click on the appropriate image below to open in a new window/tab:]