27%
OFF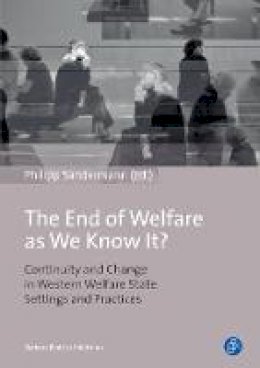 The End of Welfare as We Know It?
Philipp Sandermann
FREE Delivery in Ireland
Description for The End of Welfare as We Know It?
Paperback.
During the last 30 years, the governments of many Western countries have repeatedly called for an end to welfare. While the virtue of this goal and the means of achieving it continue to be debated in politics, much of contemporary social science research assumes that, in fact, the end of the welfare state has already occurred. The authors of this volume hope to contribute to a clearer understanding of how, where and to what extent welfare state settings really have changed since the 1980s. Their work examines questions of change and continuity while exploring various welfare practices in the Western

... Read more
Product Details
Verlag Barbara Budrich Germany
Usually ships in 4 to 8 working days
About Philipp Sandermann
Prof. Dr. Philipp Sandermann is a Professor of Social Pedagogy at the University of Trier, Germany.
Reviews for The End of Welfare as We Know It?
Sozialstaatliche Praktiken sind in einem radikalen Wandel begriffen. Wer daraus lediglich ein Ende des Wohlfahrtsstaates ableitet, macht es sich aber zu einfach und entzieht sich der analytischen Verantwortung. Vielmehr kommt es darauf an, hinter die formalrechtlichen Fassaden zu blicken und die Auswirkungen konkreter Entwicklungen zu untersuchen, statt solche Praktiken durch die unreflektierte Reproduktion klassischer Theorien des Wohlfahrtsstaates zu verschleiern. Ein
... Read more
Goodreads reviews for The End of Welfare as We Know It?