9%
OFF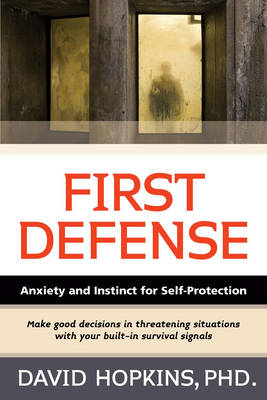 FIRST DEFENSE
Hopkins, David, Jr.
FREE Delivery in Ireland
Description for FIRST DEFENSE
Paperback. .
FINALIST SELF HELP Next Generation Indie Book Award 2016 FINALIST SELF HELP USA News Award 2015 We all have a built in weapon system that we rarely use, it's called anxiety. We are taught that anxiety is something to avoid. That emotional experiences such as fear, trepidation, or stress, are contrary to living a happy life. We are also told that in threatening situations, anxiety should be quelled. This is not true. Realize that a key to success in a threatening situation is to use your anxiety to increase your sensory input with information

... Read more
Product Details
Rolindale, MA, United States
Usually ships in 4 to 8 working days
About Hopkins, David, Jr.
Dr. David Hopkins Jr., Ph.D. is a psychologist with 21 years of experience combining psychological principles relating to violence and psychotherapy with martial arts, self-defense, close protection, and in investigative work against terrorists and criminal elements, including organized crime. He has taught psychology relating to violence at universities in both the U.S. and overseas, and is Chief of the Israeli
... Read more
Reviews for FIRST DEFENSE
This important work redefines the meaning of self-defense.David Hopkins is a psychologist who has taught martial arts and worked as an investigator and bodyguard. His background is as unique and unusual as his book, First Defense. His key message is that the process of using your instincts to harness the energy of anxiety through the willand skillfully manipulate the enemy
... Read more
Goodreads reviews for FIRST DEFENSE