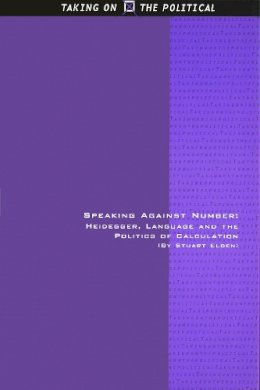 Speaking Against Number: Heidegger, Language and the Politics of Calculation
Stuart Elden
FREE Delivery in Ireland
Description for Speaking Against Number: Heidegger, Language and the Politics of Calculation
Hardback. Engages with the relation between politics and number through a reading, exegesis and critique of the work of Martin Heidegger. Series: Taking on the Political. Num Pages: 208 pages, illustrations. BIC Classification: 1DFG; 3JJ; JPA; PBH. Category: (P) Professional & Vocational. Dimension: 165 x 239 x 17. Weight in Grams: 470.
Numbers and politics are inter-related at almost every level -- be it the abstract geometry of understandings of territory, the explosion of population statistics and measures of economic standards, the popularity of Utilitarianism, Rawlsian notions of justice, the notion of value, or simply the very idea of political science. Time and space are reduced to co-ordinates, illustrating a very real take on the political: a way of measuring and controlling it. This book engages with the relation between politics and number through a reading, exegesis and critique of the work of Martin Heidegger. The importance of mathematics and

... Read more
Product Details
Edinburgh University Press
Edinburgh, United Kingdom
Usually ships in 5 to 9 working days
About Stuart Elden
Stuart Elden is a Professor in the Department of Geography at the University of Durham. He is author of Mapping the Present: Heidegger, Foucault and the Project of a Spatial History (2001) and Understanding Henri Lefebvre: Theory and the Possible (2004).
Reviews for Speaking Against Number: Heidegger, Language and the Politics of Calculation
Elden should be applauded for writing with such sharp focus, while simultaneously never reducing the genuine complexity of Heidegger's thought. Contemporary Political Theory Elden is a careful scholar, who writes in a clear, accessible prose. He has identified all the important texts germane to his argument and provides a good rationale to the volume as proposed.
Dr Laurence Hemming,
... Read more
Goodreads reviews for Speaking Against Number: Heidegger, Language and the Politics of Calculation