5%
OFF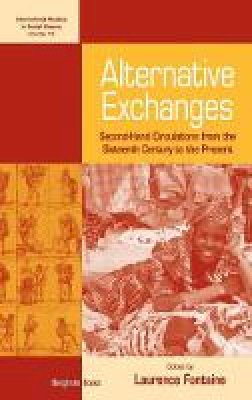 Alternative Exchanges: Second-Hand Circulations from the Sixteenth Century to the Present (International Studies in Social History)
FREE Delivery in Ireland
Description for Alternative Exchanges: Second-Hand Circulations from the Sixteenth Century to the Present (International Studies in Social History)
Hardcover. Exploring the changing meanings of the circulation of second-hand goods from the Renaissance, this volume examines the blurring of boundaries between market, gifts, and charity. It describes the actors of the market and also the subterranean circulation that develops around the need for money and that provides for numerous intermediaries. Editor(s): Fontaine, Laurence. Series: International Studies in Social History. Num Pages: bibliog., index. BIC Classification: 3J; KCZ. Category: (UU) Undergraduate. .
Exchanges always have more than economic significance: values circulate through the exchanges, and the encounters become institutionalized. Exploring the changing meanings of the circulation of second-hand goods from the Renaissance until today, this volume examines the blurring of boundaries between market, gifts, and charity. It describes the actors of the market - official actors such as corporations, recognized professions, and established markets - but also the subterranean circulation that develops around the need for money and that provides for numerous intermediaries, as well as for the many men and women who use these circulations in countless occasions either as sellers

... Read more
Product Details
International Studies in Social History
Usually ships in 4 to 8 working days
About
Laurence Fontaine studied History and Sociology in Paris-Sorbonne University and was appointed by the C.N.R.S in 1989. She has been Professor in the History Department of the European University Institute, Florence, Italy from 1995 until 2003 and is currently Directrice de recherche in the C.N.R.S., attached to the EHESS in Paris.
Reviews for Alternative Exchanges: Second-Hand Circulations from the Sixteenth Century to the Present (International Studies in Social History)
[This volume] gathers a rich collection of rigorous essays based on case studies. The topics selected exemplify the recent trends in social history, which reveal new areas for research.
Sixteenth Century Journal ...this volume offers an array of insights into the multifaceted means employed to construct material
... Read more
Goodreads reviews for Alternative Exchanges: Second-Hand Circulations from the Sixteenth Century to the Present (International Studies in Social History)