24%
OFF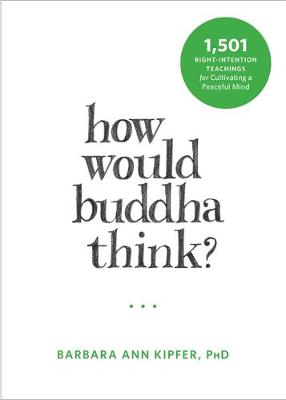 How Would Buddha Think?: 1,501 Right-Intention Teachings for Cultivating a Peaceful Mind (The New Harbinger Following Buddha Series)
Barbara Ann Kipfer
FREE Delivery in Ireland
Description for How Would Buddha Think?: 1,501 Right-Intention Teachings for Cultivating a Peaceful Mind (The New Harbinger Following Buddha Series)
Paperback. "All that we are is the result of what we have thought."-The Buddha Num Pages: 192 pages. BIC Classification: MBNH9. Category: (P) Professional & Vocational; (U) Tertiary Education (US: College). Dimension: 234 x 153. .
Every word and every action begins with a thought. Negative thoughts based in jealousy, greed, or hatred may seem harmless on the surface. After all, they're only thoughts, right? But while thoughts are only in our head, they often betray our intentions, and can directly shape our actions. So, how can you overcome internal negativity and live more consciously? In How Would Buddha Think?, best-selling author of 14,000 Things to Be Happy About, Barbara Ann Kipfer offers an insightful, modern take on the ancient teaching of Right Intention-an important tenet of the Buddhist Eightfold Path focused on

... Read more
Product Details
New Harbinger Publications
Oakland, CA, United States
Usually ships in 5 to 9 working days
About Barbara Ann Kipfer
Barbara Ann Kipfer, PhD, is author of What Would Buddha Say? and more than fifty other books, including the best-selling 14,000 Things to be Happy About, as well as The Wish List, Instant Karma, 8,789 Words of Wisdom, and Self-Meditation. Barbara has an MPhil and PhD in linguistics, a PhD in archaeology, and an MA and PhD in Buddhist studies.
... Read more
Reviews for How Would Buddha Think?: 1,501 Right-Intention Teachings for Cultivating a Peaceful Mind (The New Harbinger Following Buddha Series)
It has been said that 'mind upholds the world, ' and many people have experienced the power of unacknowledged thoughts, misinformed judgments, and poorly informed bias to distort and misdirect their lives. In How Would Buddha Think? Barbara Ann Kipfer offers readers excellent insights and a wide variety of practical and accessible mindfulness-based practices for illuminating all types of thoughts.
... Read more
Goodreads reviews for How Would Buddha Think?: 1,501 Right-Intention Teachings for Cultivating a Peaceful Mind (The New Harbinger Following Buddha Series)