4%
OFF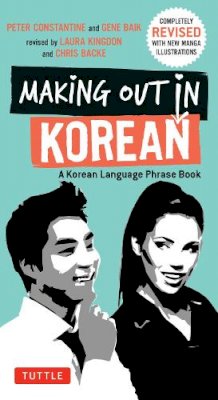 Making Out in Korean: Third Edition (Making Out Books)
Peter Constantine
FREE Delivery in Ireland
Description for Making Out in Korean: Third Edition (Making Out Books)
Paperback. .
Making Out in Korean is a fun, accessible and thorough Korean phrasebook and guide to the Korean language as it's spoken in real-life.

Nan neoga joa michigesseo! Uri tto mannalkka?--(I'm crazy about you! Shall we meet again?) Answer this correctly in Korean, and you may be going on a hot date. Incorrectly, and you could be hurting someone's feelings or getting a slap! Korean classes and textbooks tend to spend a lot of time rehearsing for the same fictitious scenarios, but chances are while in Korea you will spend a lot more time trying to make new friends

... Read more
Product Details
Usually ships in 5 to 9 working days
About Peter Constantine
Laura Kingdon is a graduate of Yonsei University's Korean Language Institute, so understands firsthand the complexities of learning Korean grammar. She is fluent in several languages and runs a translation firm. She has designed curricula and taught English as a Second Language to students of all ages, ranging from university students in Kazakhstan to elementary school children in Korea. After
... Read more
Reviews for Making Out in Korean: Third Edition (Making Out Books)
"A funny phrase book. The difference of this one from the other phrase books out there is that it focuses on slangs - specifically relationships/romance slangs."
Mykoreancorner.wordpress.com blog "Making Out in Korean
Funny book title there huh? What can you learn from here? A bunch of funny phrases, curses and umm yeah."
Lyrynne.wordpress.com blog "One of the things
... Read more
Goodreads reviews for Making Out in Korean: Third Edition (Making Out Books)