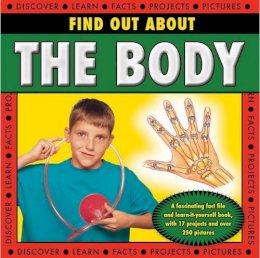 Find out about the Body
Steve Parker
FREE Delivery in Ireland
Description for Find out about the Body
Hardcover. 64 pages, 250 pictures. Offers an accessible introduction to the human body, how it works and how you use it: learn about eyes and sight, the brain, why you need food and how your muscles make you move. This title includes 17 simple projects to help you find out for yourself: measure your body, stamp your fingerprints, train your memory, and check your pulse. Cateogry: (J) Children / Juvenile. BIC Classification: 5AJ; YNT; YXA. Dimension: 205 x 209 x 11. Weight: 380.


A lively and accessible guide to the natural force of magnetism - what it is and how it works. Learn about how magnetism was discovered, how a compass works, and how to test magnetic fields. Fantastic hands-on projects show you how to make an electromagnet, a light switch, a magnetic fishing game and your own loop compass.
Product Details
Leicester, United Kingdom
Usually ships in 4 to 8 working days
About Steve Parker
Steve Parker is a highly experienced author, editor and consultant specializing in information books on the natural world, biology, technology and general sciences. He has written more than 200 books.
Reviews for Find out about the Body
Goodreads reviews for Find out about the Body