4%
OFF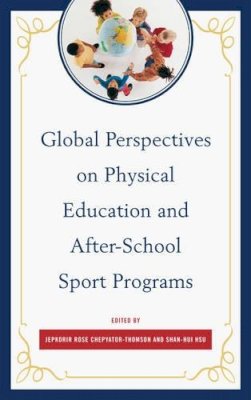 Global Perspectives on Physical Education and After-School Sport Programs
Jepkorir Rose Chepyator-Thomson (Ed.)
FREE Delivery in Ireland
Description for Global Perspectives on Physical Education and After-School Sport Programs
Paperback. .


This book examines public policy in physical education and sport and provides insights into practices of school curriculum and after-school sport programs from a global context. The authors reflect on the continuously shifting understanding of the field of physical education, articulate issues that face physical education and sport programs in the context of historical and contemporary dilemmas, and suggest a new direction for the profession in the twenty-first century.
Product Details
University Press of America United States
Lanham, MD, United States
Usually ships in 4 to 8 working days
About Jepkorir Rose Chepyator-Thomson (Ed.)
Jepkorir Rose Chepyator-Thomson is a professor in the Department of Kinesiology at the University of Georgia. Her teaching and research interests include public policy, global diversity in sport, and gender, race, and ethnicity in physical education. She is the author of sixty publications including one book, African Women and Globalization, and several chapters and research articles. She has appeared on
... Read more
Reviews for Global Perspectives on Physical Education and After-School Sport Programs
This is an excellent book. It provides a detailed examination of issues that face the fields of physical education and sport in worldwide environments. It is an outstanding textbook for physical teachers and coaches, who work in preparing the youth for their growth and prosperity in society.
Doris Corbett, former president of the International Council for Health, Physical Education,
... Read more
Goodreads reviews for Global Perspectives on Physical Education and After-School Sport Programs