23%
OFF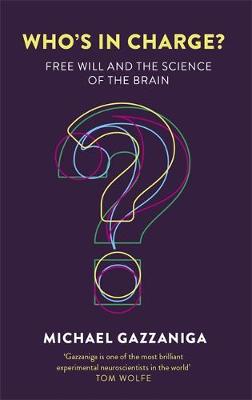 Who´s in Charge?: Free Will and the Science of the Brain
Michael Gazzaniga
FREE Delivery in Ireland
Description for Who´s in Charge?: Free Will and the Science of the Brain
Paperback. A leading neuroscientist makes an incendiary argument defending free-will and responsibility, against the prevailing 'deterministic' view of how our brains control our behaviour. Num Pages: 272 pages. BIC Classification: GTR; PDZ; PSAN. Category: (P) Professional & Vocational; (U) Tertiary Education (US: College). Dimension: 128 x 198 x 25. Weight in Grams: 254.
The prevailing orthodoxy in brain science is that since physical laws govern our physical brains, physical laws therefore govern our behaviour and even our conscious selves. Free will is meaningless, goes the mantra; we live in a 'determined' world. Not so, argues the renowned neuroscientist Michael S. Gazzaniga as he explains how the mind, 'constrains' the brain just as cars are constrained by the traffic they create. Writing with what Steven Pinker has called 'his trademark wit and lack of pretension,' Gazzaniga ranges across neuroscience, psychology and ethics to show how incorrect it is to blame our

... Read more
Product Details
Usually ships in 5 to 9 working days
About Michael Gazzaniga
Michael Gazzaniga, one of the world's leading neuroscientists, is a Professor of Psychology and Director for the SAGE Center for the Study of Mind at UC Santa Barbara. He is also the Director of the Summer Institute in Cognitive Neuroscience, President of the Cognitive Neuroscience Institute, and is a member of the President's Council on Bioethics.
Reviews for Who´s in Charge?: Free Will and the Science of the Brain
From one of the world's leading thinkers comes a thought-provoking book on how we think and how we act. . . . An exciting, stimulating, and at times even funny read that helps us further understand ourselves, our actions, and our world
CNBC.com, Best Books for the Holidays
Big questions are Gazzaniga's stock in trade.
New York
... Read more
Goodreads reviews for Who´s in Charge?: Free Will and the Science of the Brain