4%
OFF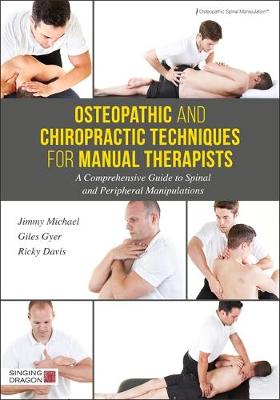 Osteopathic and Chiropractic Techniques for Manual Therapists: A Comprehensive Guide to Spinal and Peripheral Manipulations
Giles Gyer
FREE Delivery in Ireland
Description for Osteopathic and Chiropractic Techniques for Manual Therapists: A Comprehensive Guide to Spinal and Peripheral Manipulations
Hardback. BIC Classification: MXH. Category: (G) General (US: Trade). .
The first book ever to bring together the best techniques from chiropractic and osteopathy, this easy-to-use guide is necessary reading for any manual therapist wishing to hone their skills, and discover related techniques that will enhance their practice. Offering practical step-by-step instruction on how to treat a full scope of musculoskeletal conditions, this duo-disciplinary guide draws on current anatomical and physiological research to bring all the most advanced and adaptive manipulation therapy techniques to your fingertips. Providing a brief history of the two central branches of manual therapy, it gives a valuable insight into how manipulation therapists

... Read more
Product Details
Jessica Kingsley Publishers
Usually ships in 4 to 8 working days
About Giles Gyer
Giles Gyer is a specialist musculoskeletal osteopath. He travels around the world teaching manual therapy techniques with his CPD company OMT Training. His courses cover osteopathic spinal manipulation, articulation and advanced soft tissue techniques as well as dry needling. He is an internationally published author with books in dry needling, medical acupuncture and in osteopathic articulation techniques.
... Read more
Reviews for Osteopathic and Chiropractic Techniques for Manual Therapists: A Comprehensive Guide to Spinal and Peripheral Manipulations
A much needed compendium ... which delivers a greater body of knowledge and practical skills to any practitioner of manual manipulation.
Ulrik Sandstrom BSc, DC, ICCSD, FRCC, FBCA, FEAC, elite sports chiropractor and fellow of the Royal College of Chiropractors This book is an essential buy for undergraduate and postgraduate physiotherapists, osteopaths and chiropractors looking to develop their manual
... Read more
Goodreads reviews for Osteopathic and Chiropractic Techniques for Manual Therapists: A Comprehensive Guide to Spinal and Peripheral Manipulations