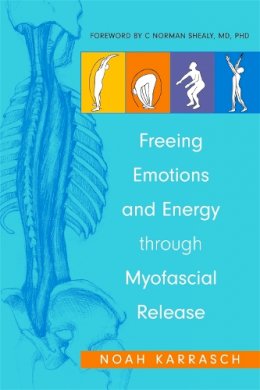 Freeing Emotions and Energy Through Myofascial Release
Noah Karrasch
FREE Delivery in Ireland
Description for Freeing Emotions and Energy Through Myofascial Release
Paperback. Written for bodywork and manual therapy practitioners from a wide variety of disciplines, as well as other healers who want to expand their skills, this generously illustrated book explains how and where emotions and static energy are held in the body, and how they can be released and rebalanced in therapies that challenge bodymindcore awareness Illustrator(s): Rizza, Amy; Zaslow, Julie. Num Pages: 224 pages, 51 black and white line drawings. BIC Classification: MXH. Category: (G) General (US: Trade). Dimension: 230 x 152 x 17. Weight in Grams: 406.


Too many of us hold our physical, mental and emotional pain within our bodies, where it slows energy, manifests as tension and can have a damaging impact upon our health. In his new book, Noah Karrasch shows that wellbeing and healing come from the detangling of blocked emotions and the restoration of the free flow of energy through the body.

Written for bodywork and manual therapy practitioners from a wide variety of disciplines, as well as other healers who want to expand their skills, this generously illustrated book explains how and where emotions and static energy are held ... Read morein the body, and how they can be released and rebalanced in therapies that challenge bodymindcore awareness. It includes many new ideas and techniques: useful conversation starters to help practitioners encourage clients to self-identify their challenges, detailed explanations of myofascial release techniques and self-reflective exercises designed to first help the practitioner truly understand the process for him or herself, through his or her own body, in order to become a more empathetic and effective therapist.

This important book will enable bodywork and manual therapy practitioners to work more confidently, and more intuitively, with their clients.

Show Less
Product Details
Jessica Kingsley Publishers
Usually ships in 4 to 8 working days
About Noah Karrasch
Noah Karrasch is a licensed deep tissue massage therapist and holds a teaching degree from the University of Missouri, Columbia. He teaches CORE bodywork skills around the world. He lives and works in Springfield, Missouri.
Reviews for Freeing Emotions and Energy Through Myofascial Release
Although directed at bodyworkers and other healers, this experiential manual combines easily understandable postural and emotional releasing techniques, common-sense medical wisdom and superb chakra system explanations, making it completely accessible to both therapists and clients.
Spirit of Change Magazine Personally, I believe the essential reason for life is to do good to others, to nurture them. Noah's CORE program
... Read more
Goodreads reviews for Freeing Emotions and Energy Through Myofascial Release