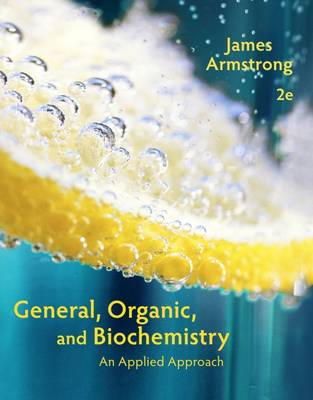 General, Organic, and Biochemistry: An Applied Approach
James Armstrong
FREE Delivery in Ireland
Description for General, Organic, and Biochemistry: An Applied Approach
Hardback. .


Focusing on key topics important in allied health and nursing careers, this engaging book is ideal for readers who have had no prior exposure to chemistry. Emphasizing problem-solving techniques, the book takes the most direct path to biomolecules and metabolic processes, provides a wealth of worked examples to help readers understand key chemical concepts, includes novel and relevant "Health Notes" in the margins, and weaves biological and medical applications throughout.
Product Details
Cengage Learning, Inc United States
Usually ships in 4 to 8 working days
About James Armstrong
Jim Armstrong attended Harvard University as an undergraduate student and then moved to the West coast for graduate school. Since earning his Master's degree at the University of California at Berkeley, Jim has taught in the California community college system. He has been on the faculty of City College of San Francisco for the past 20 years, during which time
... Read more
Reviews for General, Organic, and Biochemistry: An Applied Approach
1. MEASUREMENTS IN SCIENCE AND MEDICINE. 1.1 Measuring size: distance, mass, and volume. 1.2 Measurements in science: precision and accuracy. 1.3 Metric units and their relationships. 1.4 Unit conversions and conversion factors. 1.5 Using multiple conversion factors. 1.6 Density, dosage, and other compound units 1.7 Temperature. Connections: Why Do We Struggle Against the Metric System? 2. ATOMS, ELEMENTS, AND COMPOUNDS.
... Read more
Goodreads reviews for General, Organic, and Biochemistry: An Applied Approach