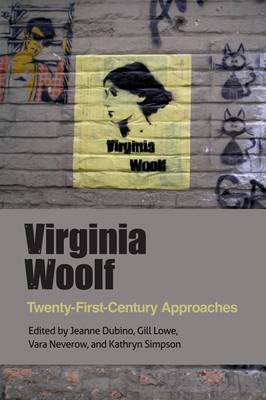 Virginia Woolf: Twenty-First-Century Approaches
Jeanne Dubino, Gill Lowe, Vara Neverow, Kathryn Simpson
FREE Delivery in Ireland
Description for Virginia Woolf: Twenty-First-Century Approaches
Paperback. .


These 11 newly commissioned essays represent the evolution, or coevolution, of Woolf studies in the early 21st-century. Divided into 5 parts - Self and Identity; Language and Translation; Culture and Commodification; Human, Animal, and Nonhuman; and Genders, Sexualities, and Multiplicities - the essays represent the most recent scholarship on the subjective, provisional, and contingent nature of Woolf's work. The expert contributors consider unstable constructions of self and identity and language and translation from multiple angles, including shifting textualities, culture, and the marketplace, critical animal studies, and discourses that fracture and re-envision gender and sexuality.
Product Details
Edinburgh University Press
Edinburgh, United Kingdom
Usually ships in 5 to 9 working days
About Jeanne Dubino, Gill Lowe, Vara Neverow, Kathryn Simpson
Jeanne Dubino is Professor of English and Global Studies, Department of Cultural, Gender, and Global Studies, Appalachian State University in North Carolina. She is the editor of Virginia Woolf and the Literary Marketplace (Palgrave Macmillan, 2010), guest editor of Virginia Woolf Miscellany 50 (1997) and co-editor, with Beth C. Rosenberg, of Virginia Woolf and the Essay (St. Martin's Press, 1997).
... Read more
Reviews for Virginia Woolf: Twenty-First-Century Approaches
Virginia Woolf: Twenty-First-Century Approaches brings together a lively variety of original readings that call upon us to reimagine once again a writer, reader, and feminist who only becomes more relevant and necessary as time goes on.
Janine Utell, Widener University, WOOLF STUDIES ANNUAL Volume 22 Virginia Woolf: Twenty-First-Century Approaches brings together a lively variety of original readings that call
... Read more
Goodreads reviews for Virginia Woolf: Twenty-First-Century Approaches