23%
OFF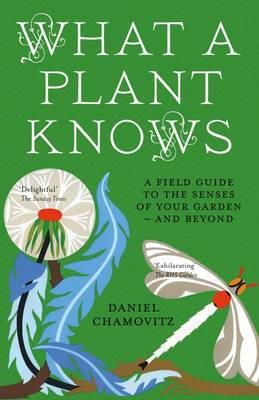 What a Plant Knows
Daniel Chamovitz
FREE Delivery in Ireland
Description for What a Plant Knows
Paperback. The enchanting look at the lives of plants, from the colours they see to the schedules they keep, in time for the start of the planting season Num Pages: 224 pages, Illustrations. BIC Classification: WMP; WNP. Category: (G) General (US: Trade). Dimension: 200 x 129 x 17. Weight in Grams: 216.


How does a Venus flytrap know when to snap shut? Can an orchid get jet lag? Does a tomato plant feel pain when you pluck a fruit from its vines? And does your favourite fern care whether you play Bach or the Beatles? Combining cutting-edge research with lively storytelling, biologist Daniel Chamovitz explores how plants experience our shared Earth – through sight, smell, touch, hearing, memory, and even awareness. Whether you are a green thumb, a science buff, a vegetarian, or simply a nature lover, this rare inside look at the life of plants will surprise and delight.
Product Details
Oneworld Publications United Kingdom
Usually ships in 4 to 8 working days
About Daniel Chamovitz
Daniel Chamovitz is Director of the Manna Center for Plant Biosciences at Tel Aviv University in Israel. His career has been marked by groundbreaking discoveries in the biology of plants, with his research published in the leading journals. This is his first book.
Reviews for What a Plant Knows
"By comparing human senses to the abilities of plants to adapt to their surroundings, the author provides a fascinating and logical explanation of how plants survive despite the inability to move from one site to another. Backed by new research on plant biology, this is an intriguing look at a plant's consciousness."
Scientific American
"This is great"
... Read more
Goodreads reviews for What a Plant Knows