25%
OFF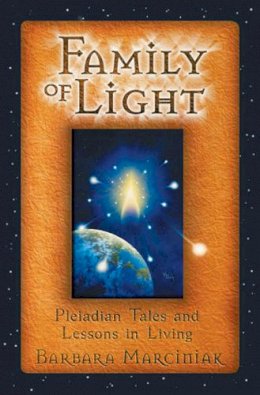 Family of Light: Pleiadian Tales and Lessons in Living
Barbara Marciniak
FREE Delivery in Ireland
Description for Family of Light: Pleiadian Tales and Lessons in Living
Paperback. Designed for those questioning man's purpose on the planet and the direction of collective consciousness, this text outlines the lessons for living from the "Pleiadians", time travellers from the future. Num Pages: 272 pages. BIC Classification: VXA; VXW. Category: (G) General (US: Trade). Dimension: 143 x 219 x 16. Weight in Grams: 324. Pleiadian Tales and Lessons in Living. Designed for those questioning man's purpose on the planet and the direction of collective consciousness, this text outlines the lessons for living from the "Pleiadians", time travellers from the future. Cateogry: (G) General (US: Trade). BIC Classification: VXA; VXW. Dimension: 143 x 219 x 16. Weight: 324.
With compassion and compelling insight, the Pleiadians, those system-busting time-travelers from the future, take us on a journey through the unchartered lands of The Book of Earth, which comprises all human experience. While "our world goes belly-up in these most absurd of times," they offer us "tools for survival." During the crucial period between 1987 and 2012--a nanosecond in the annals of existence where secrets and solutions are stored--we have the unique opportunity to move from the deepest of density to the highest of frequencies--where we shift from linear to multi-dimensional living. To make this transition, we must face not

... Read more
Product Details
Usually ships in 5 to 9 working days
About Barbara Marciniak
Barbara Marciniak is an internationally acclaimed trance channel and author of Bringers of the Dawn and Earth, which have sold over half a million copies and have been translated into more than a dozen languages. Marciniak teaches workshops throughout the Untied States and at sacred sites around the world. She is the publisher of the quarterly journal, The Pleiadian Times.
... Read more
Reviews for Family of Light: Pleiadian Tales and Lessons in Living
"With her third book, Barbara Marciniak establishes herself as a creator of excellent literature, as well as a bringer of essential information. . . . There is a spiritual revolution sweeping the Earth that is going to eclipse the industrial and information revolutions, and this book heralds its coming."
Magical Blend
"Marciniak diligently presents [the Pleiadians'] recommendations for
... Read more
Goodreads reviews for Family of Light: Pleiadian Tales and Lessons in Living