11%
OFF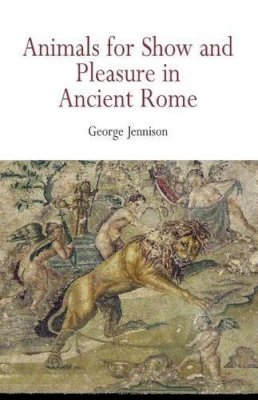 Animals for Show and Pleasure in Ancient Rome
George Jennison
FREE Delivery in Ireland
Description for Animals for Show and Pleasure in Ancient Rome
Paperback. Animals for Show and Pleasure in Ancient Rome is a complete and comprehensive investigation of the rise, function, and pageantry of wild and domesticated animals as household pets and as fodder for entertainment in the Roman world. Num Pages: 232 pages, 8 illus. BIC Classification: 1QDAG; ASZX; HBJD; HBLA. Category: (P) Professional & Vocational; (UP) Postgraduate, Research & Scholarly; (UU) Undergraduate. Dimension: 203 x 141 x 18. Weight in Grams: 272.


Deadly combat between gladiators is perhaps the best-known example of public entertainment offered in the Roman world. Wild and domesticated animals were also a part of these extravagant shows, and the elaborate presentation—or sometimes butchery—of creatures to gild an official's magnificence was among the most common forms of public diversion. Pitting bulls against bears, lions against Christians and criminals, elephants against rhinoceroses or parading large numbers of giraffe or zebras, the games devised by the Romans ranged from astonishing to brutally cruel. It is now difficult to comprehend the pleasure that huge crowds took from the death or struggle of ... Read moreanimals and people, but the history of the role of animals in ancient Rome is both fascinating and important in view of modern sports spectacles and the enjoyment we take in animals in our daily lives.
Based entirely on primary source material and infused with the author's direct experience with many of the animals discussed, Animals for Show and Pleasure in Ancient Rome is a comprehensive investigation of the rise, function, and pageantry of wild and domesticated animals as household pets and as fodder for entertainment in the Roman world. Extending from Egypt through the Greek city-states to the magnificent coliseums of the golden age of Roman civilization, Jennison provides an absorbing, evocative, and in-depth history that includes information about what animals were known to the Romans, which creatures they liked best, which animals were used as pets, from what places they obtained animals and how much they cost, how they were trapped, and the architectural development and dispersion of arenas throughout the Roman world. Originally published in 1937, Animals for Show and Pleasure in Ancient Rome remains the authoritative work on the subject.

Show Less
Product Details
University of Pennsylvania Press United States
Pennsylvania, United States
Usually ships in 4 to 8 working days
About George Jennison
George Jennison (1872-1938) was superintendent of the Belle Vue Zoological Gardens in Manchester, England, a zoo founded by the Jennison family in 1837 and among the first open to the public.
Reviews for Animals for Show and Pleasure in Ancient Rome
"The interest of the book is copious and varied."
Times Literary Supplement
"Read Animals for the pleasure of the prose, the careful collection of references in the written sources, and the then-remarkable variety of subjects considered."
Scholia Reviews
"Packed with a wide variety of authors and texts. . . . Anyone who enjoys poking about in
... Read more
Goodreads reviews for Animals for Show and Pleasure in Ancient Rome