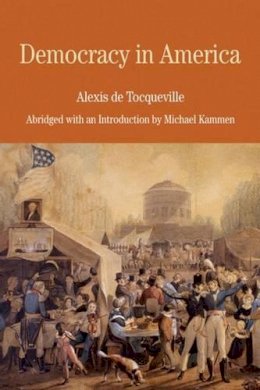 Democracy in America: Abridged with an Introduction by Michael Kammen (Bedford Series in History & Culture)
Alexis De Tocqueville
FREE Delivery in Ireland
Description for Democracy in America: Abridged with an Introduction by Michael Kammen (Bedford Series in History & Culture)
Paperback.


Designed for instructors who are eager to teach Tocqueville's classic study of American politics, society, and culture but reluctant to assign all 700 plus pages, Kammen's careful abridgment features the most well-known chapters that by scholarly consensus are most representative of Tocqueville's thinking on a wide variety of issues.
Product Details
Usually ships in 5 to 9 working days
About Alexis De Tocqueville
MICHAEL KAMMEN (ed.) is Professor of American Cultural History at Cornell University, USA.
Reviews for Democracy in America: Abridged with an Introduction by Michael Kammen (Bedford Series in History & Culture)
Goodreads reviews for Democracy in America: Abridged with an Introduction by Michael Kammen (Bedford Series in History & Culture)