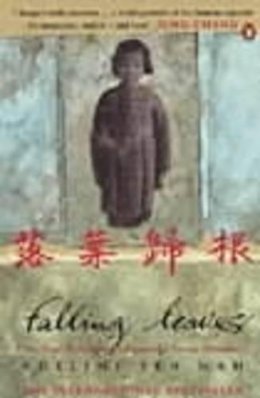 Falling Leaves: The True Story Of An Unwanted Chinese Daughter
Penguin Books Ltd
FREE Delivery in Ireland
Description for Falling Leaves: The True Story Of An Unwanted Chinese Daughter
paperback. A good clean copy with some minor shelf wear


The story of an unwanted Chinese daughter growing up during the Communist Revolution, blamed for her mother's death, ignored by her millionaire father and unwanted by her Eurasian step mother. A story of greed, hatred and jealousy; a domestic dramais played against the extraordinary political events in China and Hong Kong. Written with the emotional force of a novel but with a vividness drawn from a personal and political background. "Falling Leaves" has become a surprise bestseller all over the world.
Product Details
Usually ships in 2 to 4 working days
About Penguin Books Ltd
Adeline Yen Mah took studied at London Univesity and now lives in the USA. "My Chinese Cinderella. Her father's stunningly beautiful new young wife makes Snow White's wicked stepmother look like Mary Poppins. A compelling story.' - The Mail.
Reviews for Falling Leaves: The True Story Of An Unwanted Chinese Daughter
Goodreads reviews for Falling Leaves: The True Story Of An Unwanted Chinese Daughter