26%
OFF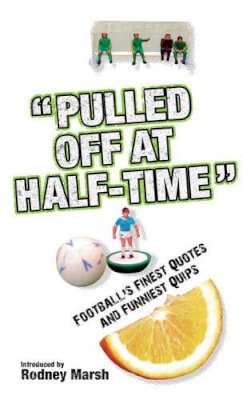 "Pulled Off at Half-time"
Stuart Reeves
FREE Delivery in Ireland
Description for "Pulled Off at Half-time"
Hardcover.


Footballers are often maligned for their intelligence but no-one can dispute that they have provided some of the funniest quotes (intentionally or not) in the history of sport - and "Pulled Off at Half-Time" is the ultimate collection of these hilarious comic offerings. The title, inspired by a famous Rodney Marsh quote too risque to repeat here, sets the standard for the 1000 quotes from and about the most famous names in football.
Product Details
Usually ships in 5 to 9 working days
About Stuart Reeves
Stuart Reeves is a life-long Luton Town fan, which has provided him with the ability to see the funny side of football. A full-time researcher, writer and an avid collector of football quotations, he has previous contributed to The Grapple Manual and England's Worst Footballers.
Reviews for "Pulled Off at Half-time"
"Nobby Stiles a dirty player? No, he's never hurt anyone. Mind you he's frightened a few!' Sir Matt Busby on Nobby Stiles 'Footballers are only interested in drinking, clothes and the size of their willies'. Karen Brady 'Carlton Palmer can trap the ball further than I can kick it.' Ron Atkinson on Carlton Palmer 'I've told the players we need
... Read more
Goodreads reviews for "Pulled Off at Half-time"