29%
OFF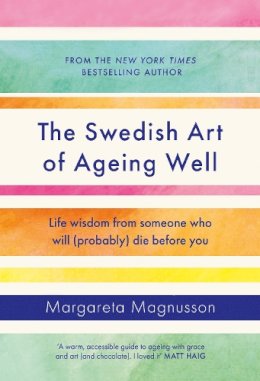 The Swedish Art of Ageing Well: Life wisdom from someone who will (probably) die before you
Margareta Magnusson
FREE Delivery in Ireland
Description for The Swedish Art of Ageing Well: Life wisdom from someone who will (probably) die before you
Hardcover.


A WATERSTONES BEST HOME & LIFESTYLE BOOK OF 2023 ---------- This is a guide to a life well-lived. It is about the wonder of the everyday and the lessons that age brings. Wear stripes. Eat chocolate. Don't leave empty-handed. But also embrace change, let go of what doesn't matter and take care of something or someone other than yourself. The Swedish Art of Ageing Well is a gentle and welcome reminder that, no matter your age, there are always fresh discoveries ahead and pleasures to be enjoyed every day.
Product Details
Edinburgh, United Kingdom
Usually ships in 5 to 9 working days
About Margareta Magnusson
Margareta Magnusson was born in Gothenburg in Sweden on New Year's Eve, somewhere between 80 and 100 years ago. She has worked for many years as an artist and has had her work exhibited as far afield as Singapore and Hong Kong. She has five children and is the author of Döstädning: The Gentle Art of Swedish Death Cleaning.
Reviews for The Swedish Art of Ageing Well: Life wisdom from someone who will (probably) die before you
A warm, accessible guide to ageing with grace and art (and chocolate). I loved it
MATT HAIG [Magnusson] returns with more funny and feisty advice . . . exploring the best ways to embrace life, age joyfully, and accept change by letting go of what doesn't matter
Sunday Express
A thought-provoking guide for
... Read more
Goodreads reviews for The Swedish Art of Ageing Well: Life wisdom from someone who will (probably) die before you