27%
OFF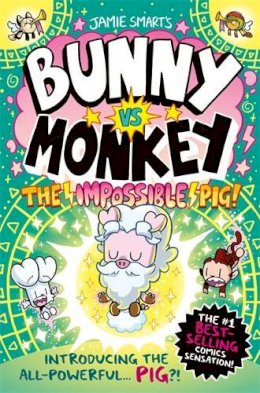 Bunny vs Monkey: The Impossible Pig
Jamie Smart
FREE Delivery in Ireland
Description for Bunny vs Monkey: The Impossible Pig
Hardcover.


The Woods are in uproar! Pig has vanished! What could have happened to him? And who is this familiar-looking bearded figure sitting on a cloud? Could they be connected?
Product Details
Usually ships in 5 to 9 working days
About Jamie Smart
Jamie Smart studied art at college for four years, but it was just an excuse to practise drawing animals with boggly-eyes. His comic Fish-Head Steve was the first comic to be shortlisted for the Roald Dahl Funny Prize. Jamie has illustrated comics for The Sunday Times, the Dandy and the Beano. His well-loved Bunny vs Monkey and Looshkin stories are
... Read more
Reviews for Bunny vs Monkey: The Impossible Pig
Perfect for fans of Dog Man
Jamie Littler
One of the best children's comics of all time
Starburst Magazine
The funniest thing around
Comicon
Anarchy, animals and utter joy
Louie Stowell
Wonderfully wacky, witty and wild!
Laura Ellen Anderson
Inventive, original and completely wacky!
BookTrust
Jamie Smart is
... Read more
Goodreads reviews for Bunny vs Monkey: The Impossible Pig