83%
OFF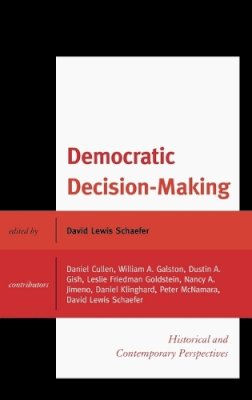 Democratic Decision-Making: Historical and Contemporary Perspectives
David Lewis Schaefer (Ed.)
FREE Delivery in Ireland
Description for Democratic Decision-Making: Historical and Contemporary Perspectives
Hardback. .
Democratic Decision-Making: Historical and Contemporary Perspectives contains eight essays by political scientists addressing various aspects of the democratic decision-making process. The book is divided into four parts: democratic statesmanship, the extent to which limitations of the democratic principle of majority rule are desirable, the contemporary doctrine of "deliberative democracy," and informal modes of democratic decision-making. Under these four headings, the contributors discuss a wide variety of issues, including the practice of "political opportunism" by such statesmen as Hamilton and Madison; the historical development of legal restraints on democracy in America ranging from judicial review (during the colonial period)

... Read more
Product Details
Lanham, MD, United States
Usually ships in 4 to 8 working days
About David Lewis Schaefer (Ed.)
David Lewis Schaefer is professor of political science at College of the Holy Cross in Worcester, MA.  
Reviews for Democratic Decision-Making: Historical and Contemporary Perspectives
An excellent addition to the discussion of Democratic Theory and Democratic Decision-Making. The individual essays are excellent. They are wide-ranging yet also achieve a thought-provoking harmony. This volume will be of interest to both specialists and a wider audience, including for classroom adoption. Highly recommended.
Gregory Bruce Smith, Trinity College This collection, by a group of authors varied in
... Read more
Goodreads reviews for Democratic Decision-Making: Historical and Contemporary Perspectives