3%
OFF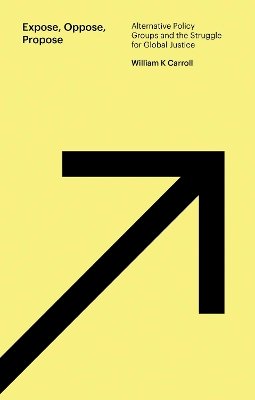 Expose, Oppose, Propose: Transnational Alternative Policy Groups and Global Civil Society
William K. Carroll
FREE Delivery in Ireland
Description for Expose, Oppose, Propose: Transnational Alternative Policy Groups and Global Civil Society
Paperback. .
Neoliberal capitalism positions us all as consumers in a hypermarket where money talks. For the majority of people around the globe, this translates as precarity and immiseration. But how can we break from this dominant ideological framework? Expose, Oppose, Propose details how, since the mid 1970s, transnational alternative policy groups (TAPGs) have functioned as think tanks of a different sort, generating resources for a globalization from below in dialogue with the critical social movements that are protagonists for global justice. Based on two years of intensive research, William Carroll not only provides a detailed

... Read more
Product Details
Usually ships in 5 to 9 working days
About William K. Carroll
William K. Carroll teaches at the Sociology Department at the University of Victoria, Canada. His research interests are in the areas of social movements and social change, the political economy of corporate capitalism, and critical social theory and method. His books include The Making of a Transnational Capitalist Class (Zed Books, 2010), Remaking Media (2006), and Organizing Dissent (1997).
Reviews for Expose, Oppose, Propose: Transnational Alternative Policy Groups and Global Civil Society
Carroll successfully shows that TAPGs (transnational alternative policy groups) and their responses to the ongoing crises, move us beyond the defensive politics of resistance and localism to a politics of antipassive revolution and counterhegemony at a global level.
Mobilization
In analysing the dual crisis of contemporary capitalism, Carroll skillfully weighs up the strategic dilemmas faced by transnational resistance
... Read more
Goodreads reviews for Expose, Oppose, Propose: Transnational Alternative Policy Groups and Global Civil Society