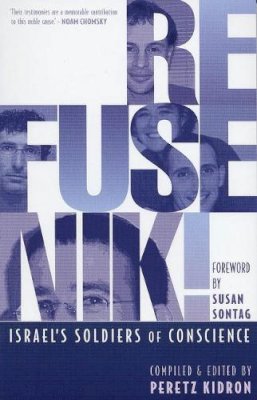 Refusenik!
Unknown
FREE Delivery in Ireland
Description for Refusenik!
Paperback. In Israel, hundreds of soldiers called up to take part in controversial campaigns or assignments have refused orders. This text presents the stories, experiences, viewpoints and poetry, of these officers and ordinary footsoldiers, men and women, from every ethnic background and class. Editor(s): Kidron, Peretz. Num Pages: 144 pages, notes. BIC Classification: 1FBH; GTJ; JPVH; JWL. Category: (P) Professional & Vocational; (UP) Postgraduate, Research & Scholarly; (UU) Undergraduate. Dimension: 215 x 148 x 9. Weight in Grams: 195.
Hundreds of Israeli soldiers, called up to take part in controversial campaigns like the 1982 invasion of Lebanon or policing duties in the Palestinian territories today, have refused orders. Many of these 'refuseniks' have faced prison sentences rather than take part in what they regard as an unjust occupation in defence of illegal Jewish settlements. In this inspirational book, Peretz Kidron, himself a refusenik, gives us the stories, experiences, viewpoints, even poetry, of these courageous conscripts who believe in their country, but not in its actions beyond its borders. We read about the cautious, even embarrassed, response of

... Read more
Product Details
Zed Books Ltd United Kingdom
Usually ships in 5 to 9 working days
About Unknown
Peretz Kidron was born in Vienna in 1933. Months after the Nazi occupation of Austria, his family fled to Britain. On graduation from high school, he emigrated to Israel where he lived for 20 years in Zikim, a border kibbutz near the Gaza Strip, where he grew oranges, taught school, and engaged in voluntary work. A freelance journalist, broadcaster and
... Read more
Reviews for Refusenik!
'Our greatest admiration must go to those brave Israeli soldiers who refuse to serve beyond the 1967 borders?. These soldiers, who are Jews, take seriously the principle put forward at the Nuremberg trials in 1945-46: namely, that a soldier is not obliged to obey unjust orders - indeed, one has an obligation to disobey them.' Susan Sontag, novelist, essayist and
... Read more
Goodreads reviews for Refusenik!