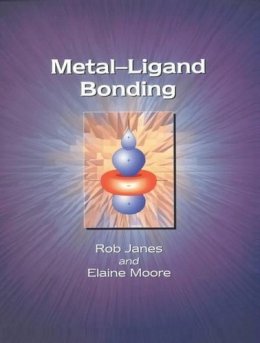 Metal-Ligand Bonding
E A Moore
FREE Delivery in Ireland
Description for Metal-Ligand Bonding
Paperback. The material addressed in this book forms the foundation of undergraduate lecture courses on d-block chemistry and facilitates learning through various key features. Num Pages: 108 pages, index. BIC Classification: PNK; PNND. Category: (U) Tertiary Education (US: College); (UU) Undergraduate. Dimension: 212 x 262 x 8. Weight in Grams: 388.
To appreciate the chemistry and physical properties of complexes of the transition series, an understanding of metal-ligand interactions applied to complexes of the d-block is needed. Metal Ligand Bonding aims to provide this through an accessible, detailed, non-mathematical approach. Initial chapters detail the crystal-field model, using it to describe the use of magnetic measurements to distinguish complexes with different electronic configurations and geometries. Subsequent chapters look at the molecular orbital theory of transition metal complexes using a pictorial approach. Bonding in octahedral complexes is explored and electronic spectra and magnetic properties are given extensive coverage. The material addressed in this

... Read more
Product Details
Royal Society of Chemistry
Cambridge, United Kingdom
Usually ships in 4 to 8 working days
About E A Moore
Professor Abel is an Emeritus Professor at the University of Exeter.
Reviews for Metal-Ligand Bonding
text is very readable and adopts a question and answer style throughout to emphasise the key points....an approachable book and a useful revision aid.
Chemical Educator, Vol.9, No.4, 2004 (Andrew D Burrows)
A very good didactic structure, and it is a pleasure to work through it.......can be recommended unreservedly as an introduction to coordination chemistry.
Angewante Chemie
... Read more
Goodreads reviews for Metal-Ligand Bonding