76%
OFF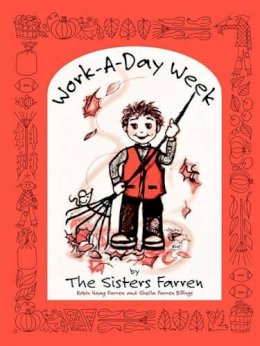 Work-A-Day Week
Farren, Robin Haag; Billings, Sheila Farren
FREE Delivery in Ireland
Description for Work-A-Day Week
Paperback. .
All children are fascinated by what their parents do while at work. Here is a wonderful way to teach children the days of the week using the workweek. Work-A-Day Week is beautifully illustrated to reflect the diversity of happy, modern families working and playing together, and is sure to become a staple in your home, library, or classroom. The Sisters Farren show men and women busy at home and at interesting and diverse careers, Monday through Friday. Children have their own work with school and chores, and each of the three weeks depicted ends with families sharing fun time together

... Read more
Product Details
ScarecrowEducation United States
Usually ships in 4 to 8 working days
About Farren, Robin Haag; Billings, Sheila Farren
Robin Haag Farren is a graphic artist, illustrator, and professional musician and songwriter. Formerly a worldwide creative director, Robin has shifted focus from advertising to children and children's literature. Sheila Farren Billings is a high school art teacher, illustrator, and painter. She has 14 years of teaching experience.
Reviews for Work-A-Day Week
I think kids will love reading Work-A-Day Week. You make it possible for children to learn valuable lessons in many marvelous ways. Congratulations! I plan to introduce the book to my grandchildren. As you can see, I am delighted to endorse it.
Norman Bridwell, creator of the Clifford, the Big Red Dog series Work-A-Day Week is such a fun
... Read more
Goodreads reviews for Work-A-Day Week