REMEMBERING 'WILLIAMEEN' MCDONAGH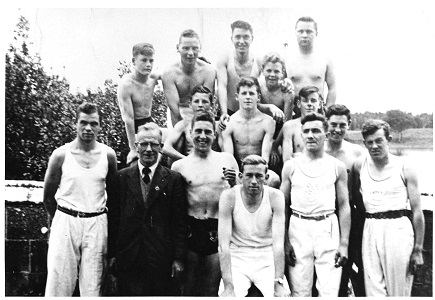 by Tom Kenny
We have two photographs today of groups from Our Lady's Boys Club. Firstly, a club rugby team that made history by winning the Connacht Junior League for the first time in 1959 and secondly, some Club members taken on the annual camp in Lough Cutra Castle, c.1956.
The rugby team is, back row; Michael Crean, Tony Maher, Tommy McDonagh, Michael Cunningham, John O'Shaughnessy, Des O'Shaughnessy, Michael O'Shaughnessy, Tom Cunningham and Des Kenny. In front are Aidan McCaffrey, Paddy McDonagh, William McDonagh, Paddy Beatty (captain), Brod King, Eamonn Griffin, Joe Geoghegan and Jim Cunningham.
The Lough Cutra group are, front row; Paddy McDonagh, Jim Cunningham, Fr. Michael McGrath SJ, Michael Darcy, William McDonagh. 2nd row; Michael Burke, Leo Crean, Des Fitzpatrick, Seanie Flaherty, Peter Griffin, Michael Carrick, Patsy Burke. At the back are Tommy Cunningham and Joe Geoghegan.
The year 1940 was a time of great social change in Ireland, a time when the state gave no assistance to the out-of-school education of young people, a time of war, a time of poverty. Prospects were not great. Recreational activity for the young of working class areas such as Bohermore, Shantalla, Claddagh and 'The West' were virtually non-existent. The need for social and recreational facilities for these people was paramount. Fr. Leonard Shiel S.J. recognised this so, with the help of others, he founded Our Lady's Boys Club. Its primary aim was to show the boys ways and means of developing self-confidence, of securing their own destiny and in many cases, of escaping the poverty trap. Club activities have, as their cornerstone, belief in the value of transmitting Christian principles as a model for the youth on which to base their lives.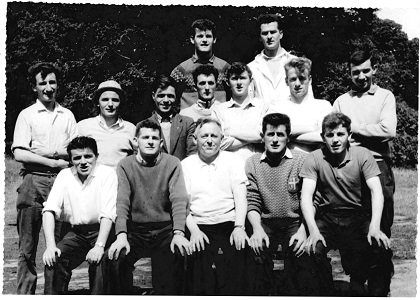 It quickly established itself as an integral part of Galway life. There are thousands of men around the world who will tell you of the enormous contribution OLBC made to their lives and there are many who can testify to the difference it made to the quality of life in Galway. It is the oldest Boys Club in the country and still continues to mould young males by training them, educating them, getting them jobs and preparing them for adult life. Today, the Club is now entirely run by ex-boys who have come up through the ranks and their unselfish willingness to serve, their remarkable commitment to the youth of this city is testament to what OLBC has done for them.
William McDonagh, known only as 'Williameen' was a typical Boys Club boy, and he features in both of our photographs. He was born in 1939 in Cooke's Terrace, Bohermore. His father was Michael, his mother Elizabeth. He had three sisters, Nora, Kitty and Christina, all of whom emigrated to Manchester, as did two of his brothers, Martin and Tommy. Another brother, Paddy Joe, went to America and brothers Brendan and Dominick, like William, ended up in London. He attended St. Brendan's School, and like many a Bohermore fellow, joined OLBC as soon as they let him in the door. He was a great sportsman, excelling at boxing, rugby, table tennis and life-saving. He was an ideal clubman, always willing to help and always encouraging younger members. The Ryan School of Dancing used to practise upstairs in Powells in Forster Street and they often held dances there and occasionally employed Williameen as a doorman/caretaker. He also worked as a docker, a machine driver, went to Scotland potato picking and for a time, trained as an electrician with Jim Cunningham. In spite of all these moves, he was invariably in good humour when you met him.
Eventually, he went to London where he played rugby (wing forward) for London Irish, probably with their seconds or thirds team. In those early years, he came home on holiday occasionally, usually staying in the Western Hotel on Prospect Hill. Sadly, as the years went on, he gradually lost touch with his old friends.
Some time ago, Tom Nally had a phone call from his cousin Bobby Burke (whose horse Bobby Joe won the Grand National) telling him he had met a man named P.J. McHale in London. P.J. regularly visited his mother in Meade Nursing old folks home in Borehampton, Hertfordshire, and struck a friendship with another resident there named William McDonagh from Galway who had no contact with anyone from here for over 20 years. Maybe Tom could find out if anyone knew him, so Tom called Tom Connell from OLBC who not only knew Williameen but he sent him a club jersey and some old photographs. From then on, the staff in the home had great difficulty getting the jersey off him so that they could wash it, and he talked about little else until the day he died, except to continually remember the best days of his life which were spent in the club. His dying wish was to be buried in Galway and P.J. promised him he would take care of that. Williameen died on March 21st, 2020 and was cremated. It was during Covid so P.J. preserved his ashes. Now, the Boys Club, in the shape of Tom Connell and Gerry Traynor have organised to bring his remains home, accompanied by his London parish priest, Fr. Dominick McKenna and by P. J. McHale. Fr. McKenna will preside at a mass for Williameen in the OLBC clubhouse on Sea Road at 2pm on Wednesday next, February 8th, and the burial will take place in the New Cemetery immediately afterwards. All are welcome to attend, especially ex-club members, neighbours and friends of Williameen.
He may have left the club but the club never left him.
The organisers would like to thank Bobby Burke, Tom Nally, Councillor Frank Fahy and the Board of Management of the Club together with the rugby section for their help in this project.