GALWAY HOCKEY CLUB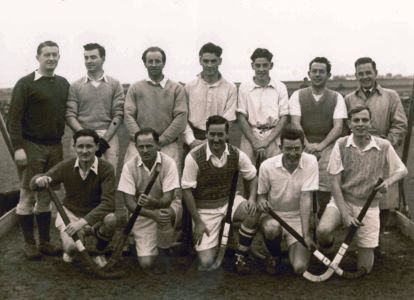 by Tom Kenny
In 1951 Hastings Elliott Jephson was working in the ESB in Galway when he had the idea of setting up a hockey club in the city. He and his friend George Bevis decided to see if there was merit in this notion, so they simply went from door to door around town asking people if they would have any interest in playing the game of hockey.
As a result, on November 6th, 1951 a meeting in the Skeffington Arms decided to form Galway Hockey Club. Present were Elliott Jephson, Wyndham Smith, Walter Walsh, E. Simons, Harry Joseph, Michael Walsh, R. O'Toole and Derek Kennedy.
The following year they decided the club colours would be black and red. A momentous day for the club was August 20th, 1952 when they amalgamated with Corrib Ladies Hockey Club and drew up a new constitution. In 1954, they bought their first set of jerseys from Anthony Ryan for £20. In those early days they held committee meetings in locations like the Royal Hotel, the Odeon, the Great Southern or in Walter Walsh's office in William Street. They played games where they could, in the Grammar School, on parks on housing estates and in a field in Ballyloughane, even on the beach in Salthill. In the 1970's, they moved to the new gravel pitch in Maryville, Dangan. They organised indoor evening training in Coláisde Éinde on Threadneedle Road or in Galway Community College in Wellpark.
In the beginning, a lot of energy went into fundraising which helped generate a sense of community within the club. Indeed, many aspects of the culture of the club were set down in the early 1950's, a competitive spirit and a sense of fun and sociability.
The Ladies Section has always been strong. Their first GHC players to win international caps were Mary Lynch and Cecily McNally who played for Ireland in 1953. Other club members to represent Ireland at various levels since then include Dan Shanahan, Tara Browne, Martin White, Aisling Keogh, Elaine Casey and Ciara Dunne. Three ladies brought much honour to the club over the years by being elected as Presidents of the Irish Ladies Hockey Union … Angela Lupton, Mary Costelloe and June Smith.
Our photograph shows the Club's first eleven in January 1953. They are, front row, left to right; Frankie Lyons, Wyndham Smyth, Willie Walsh, M. Barry and Mickey Walsh (Little Sport). At the back are Jimmy Walsh, John Holland, Des McNally, Derek Kennedy, A. Kennedy, M. Wall and Harry joseph.
To celebrate this notable 70th anniversary, GHC are compiling a history of the club and they are appealing for help. If you have any documents, photographs, newspaper clippings, stories, anything of interest to them, would you please contact Donal Dempsey at 087 242 7873 or by e-mail at This email address is being protected from spambots. You need JavaScript enabled to view it. Everything will be cared for and returned safely to you.
Our thanks to Paul O'Dowd and Donal Dempsey for their help with the above.